SACI AWARDS 2018
The call for nominations for the 2018 SACI awards is now open. We would like to encourage all SACI members to identify and nominate deserving candidates. These prestigious awards aim to recognise and celebrate the contributions of members and chemist at all levels from the senior Gold Medal of the Institute, through to the SACI Postgraduate and Education medals.
Award Information
Award Nomination
Awards History
Call for SACI Fellows 2018
The call for nomination for SACI Fellows is now open. The Fellows membership category is the senior membership level of the Institute and is granted to members in acknowledgement of their outstanding contributions and services to chemistry. We encourage all members to identify and nominate worthy candidates for consideration for this membership category in 2018.

The nominee must be a current full SACI Member in good standing with the Institute and have been a member of the Institute for at least ten years. In addition, candidates must have demonstrated excellence and leadership in the areas of both: (a) the profession, education and/or management of chemistry, and (b) volunteer service to the chemical community. 

The nominee completes the online application form available on the SACI website and uploads a comprehensive CV. The proposer and seconder are required to submit their motivations for the nomination via the online nomination system. All of these requirements must be completed before 31 March 2018 to be considered.

Link to the online application:  http://www.saci.co.za/apply_for_fellowmembership.html (your member login details will be required).

Thanking you.

Regards,

Prof. Z.R. Tshentu
Executive Secretary of SACI
First Chemistry Department in Port Elizabeth
Peter Loyson, a SACI member of long standing, has become 'the' chemistry historian in South Africa. Peter has written many articles over time and most recently published three books dealing with the history of chemistry research in South Africa. In 2017 he published three books:

The first Chemistry Department in Port Elizabeth

James Moir (1874-1929).
Chemist in South Africa and Early Pharmacy Teaching in Port Elizabeth

Peter has worked most of his life in the Port Elizabeth area. He taught at the PE Technikon in the Pharmacy and Applied Science Departments for 15 years. After the merging of the PE Technikon with the University of Port Elizabeth (UPE) he became Professor of Analytical and Physical Chemistry at the newly established Nelson Mandela Metropolitan University. He retired in 2011. In 2008 he was instrumental in founding the Ancient History Society of Port Elizabeth, a Society which has grown tremendously over the years. He has a strong interest in the history of chemistry and Science in general and has given talks on Chemistry in Ancient Egypt, Science and Technology in Ancient China, A tribute to the Ancient Greeks, Ancient Greek Mathematics, Ancient Roman Engineering, The Golden Age of Arabic Science, Ancient Timekeeping and others.
Quick Links
Latest Updates:
Download Latest SACI Newsletter
New Interactive Electronic Version of the IUPAC Periodic Table of the Elements & Isotopes
How do we know what the temperature of our planet was a million years ago, to better understand climate change? Where did Őtzi the Iceman live as a child and an adult? What evidence gives doping agencies the gold standard to determine whether testosterone in an athlete's sample comes from doping? How do we obtain 3D images of tumors in soft tissues?
The answers to all of these questions and many more can be revealed through a deeper understanding of isotopes of the elements. Isotopes matter!
These new resources are created for educators and students at secondary and post-secondary levels, and to inform the public about the many uses of isotopes in our lives. They are based on educational practices that encourage engaged and active learning by students.
The new IUPAC interactive electronic periodic table and accompanying educational materials were created by a partnership between an IUPAC Project team of scientists and educators, and researchers at the King's Centre for Visualization in Science, and build on the work of a previous IUPAC project team to create a print version of the Periodic Table of the Isotopes.
"This project responds to requests by educators and students for resources highlighting the importance of isotopes in our lives, and that give students help in using interval atomic weights for elements. www.ISOTOPESMATTER.com brings free engaging and interactive learning resources to the fingertips of students and educators around the world," says Task Group Co-Chair Peter Mahaffy, Professor of Chemistry at the King's University in Canada, and co-director of the King's Centre for Visualization in Science.
And Norman Holden, retired Research Coordinator of the High Flux Beam Reactor (HFBR) and the Brookhaven Medical Research Reactor (BMMR) and a Guest Scientist at the National Nuclear Data Center (NNDC) of Brookhaven National Laboratory in New York, adds: "It's great when scientists and educators work together to create a vehicle to provide students with an understanding of fundamental scientific facts and accomplish this internationally."
Following the global launch on August 17, 2016, the new IUPAC interactive electronic periodic table and accompanying resources can be accessed at www.isotopesmatter.com. A print version of the periodic table of the isotopes and elements is available at http://ciaaw.org/periodic-table-isotopes.htm. Further details will be published in the peer-reviewed IUPAC Journal, Pure and Applied Chemistry.
Contact:
Dr. Peter Mahaffy, IUPAC Project Task Force Co-Chair
Co-Director, The King's Centre for Visualization in Science
The King's University, Canada
peter.mahaffy@kingsu.ca
Dr. Norman Holden, IUPAC Project Task Force Co-Chair
Brookhaven National Laboratories, USA
holden@bnl.gov
Dr. Fabienne Meyers
Associate Director, IUPAC
fmeyers@iupac.org

SACI Ties and Scarfs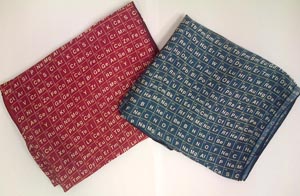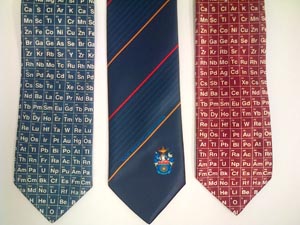 Periodic table ties and ladies scarfs R120 each. Please contact the head office to place orders.
There is also a courier charge of R135 per order for delivery.