SACI News January 2017

2017 is now well underway and we can now all prepare ourselves for what the year can bring. There are many events that unfolded in 2016 in the world that will have a bearing on the SA Chemistry community. Over the years we have fostered and built up strong links with the ACS and the RSC in particular and we hope these links will not be affected by these changes.

Also – remember to nominate chemists for the various SACI awards and for the NSTF awards in 2017!

Neil Coville
Content
SACI office address and times
Advertising in the SACI newsletter
IUPAC fees 2017
SACI Gold Medal winner 2016: Prof Tim Egan (UCT)
Nominations for SACI 2017 awards
Section and Divisions News
Western Cape RSC-SACI Dinner
RSC and SACI KZN Region Lunch and Awards Ceremony
Eastern Cape Frank Warren Organic Chemistry Conference
Eastern Cape Postgraduate Regional Seminar

IUPAC
OPCW (Organisation for the Prohibition of Chemical Weapons)
African Journals of Chemistry
Article on James Moir
Articles published in SAJC in 2016
CAIA Newsletter
Society of Cosmetic Chemists
RSC
Royal Society of Chemistry and Royal Society Partnership for International Collaborations
GC-MS training
SACI and SACI related conference events
SACI Inorganic 201 (incorporating the Carmen Symposium)
1st Africa Energy Materials Conference Workshops
The 3rd TCS International Conference and the 6th FASC Congress
Others
Workshops
UNDERSTANDING XRF SPECTROMETRY
Positions
Lecturer/Senior Lecturer, School of Chemistry at Wits University
Research Officer or Principal/Senior Technician at Wits University
Lecturer, General Chemistry at Sefako Makgatho Health Sciences University
Scholarship Opportunities for MSc and PhD studies in 2017, Molecular modelling in organic chemistry at UP
SACI office address and times
The SACI office, run by Laila Smith is located on the 1st Floor of Gate House, room 124. The telephone number is 011 717 6705 and e-mail address is: saci.chem@wits.ac.za. The cel number is 061 282 3477.

This year we are to experiment with having Laila work in the afternoons from home. This will mean that office hours will be from 8.30 am till 1.00 pm. She can still be contacted at any time during her office hours. We have noted that there are very few members (or others) who physically visit the office at Wits.
Advertising in the SACI newsletter
The newsletter provides a means of getting messages to our membership. Currently the SACI membership stands at over 1000. This newsletter thus provides a means of advertising employment opportunities, conferences and workshops, and even for companies/Universities to promote themselves. We encourage members to use the Newsletter for advertising purposes. All SACI related conferences and events are advertised for free; if not a SACI related event there could be a small charge. For advertising costs contact Laila at the SACI office.

IUPAC fees 2017
These have been set at R300 for 2017 ($20 US). All members will receive a form asking for details if any members wish to belong to IUPAC. This form with proof of payment will then be handled by Laila in the SACI office. For those who still wish to join – contact Laila in the SACI office.
SACI Gold Medal winner 2016: Prof Tim Egan (UCT)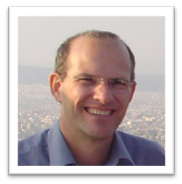 Professor Timothy Egan has played a leading role in the chemical sciences in South Africa for over twenty years. After graduating from the University of the Witwatersrand with a PhD in Bioinorganic Chemistry in 1988 he held two postdoctoral fellowships, at the Red Cross War Memorial Children's Hospital and then at the Albert Einstein College of Medicine in New York, USA. He returned to a post as a researcher at the Red Cross War Memorial Children's Hospital and then took a position as lecturer at the University of Cape Town in 1996, where he established a productive and internationally respected research undertaking. Professor Egan was promoted to full Professor in 2006 and to the Jamison Chair of Inorganic Chemistry in 2010.

Professor Egan's work centres on the bioinorganic chemistry of the malaria parasite and in particular on the way in which this parasite converts haem to malaria pigment also known as haemozoin (or β-haematin). Haem is the major iron-containing molecule of blood and is released in large quantities into the parasite as a waste product when it feeds on the contents of the human red blood cell during malarial infection. This process is of great significance, because it is inhibited by a number of clinically very important antimalarial drugs, such as chloroquine, quinine and related compounds, some of which remain a mainstay in the treatment of malaria, a disease that still claims over 600 000 lives every year in Africa. There is also increasing evidence that haemozoin plays a role in the pathogenesis of the disease. Furthermore, it has now been recognised that haemozoin formation is not confined solely to malaria parasites, but that a number of other blood-feeding parasites, including Schistosoma mansoni, the causative agent of schistosomiasis (bilharzia), also dispose of haem by conversion to this pigment, as do certain blood-sucking insects.

Professor Egan is recognised as an international authority on haemozoin. . He is the author with the largest number of papers on haemozoin/beta-haematin in the world and has played a significant role in the substantial growth in interest in this topic. In this area of research, his papers have garnered over 2600 citations. (In total he now has 122 publications with over 3500 citations, including his papers in other areas of bioinorganic research). He has an h-factor of 34 (Web of Science). His work on haem in solution has also had a significant impact, overturning a model of the aqueous haem dimer that had prevailed for more than thirty years.

Professor Egan's stature as a pioneer in this field has been recognized by the organizing committees of highly prestigious international conferences. The following are a few highlights: In 2006 he co-chaired and was an invited speaker in a session dedicated to haemozoin at the 11th International Congress of Parasitology in Glasgow, Scotland. This was the first ever session dedicated to haemozoin at a major international conference. He again co-chaired a symposium on haemozoin at the 12th International Congress of Parasitology in Melbourne, Australia in August 2010. He was keynote speaker at the 15th International Conference on Biological Inorganic Chemistry in Vancouver, Canada in 2011 and plenary lecturer at the XXIX Congress of the International Academy of Pathology, Cape Town in 2012. In 2013 he was awarded a highly prestigious Japan Society for the Promotion of Science (JSPS) Short-term Invitation Fellowship to visit Japan and present lectures at six institutions in various cities in that country. He was an invited speaker and session chair at the 17th International Conference on Biological Inorganic Chemistry in Beijing, China in 2015. Finally, the significance of Professor Egan's research can also be judged from the success that he has achieved in very competitive grant applications to the National Institutes of Health (NIH) International Research in Infectious Diseases Including AIDS (IRIDA) program, having secured consecutive grants (2009-2013 and 2014-2019) in this program open to PIs from all low and middle income countries. Only about 10 such grants are awarded annually.

For his ongoing, passionate exposition of chemistry, his inspirational leadership and his considerable and outstanding contributions to the development of chemistry, particularly bioinorganic chemistry, in South Africa, the South African Chemical Institute awarded its Gold Medal to Timothy Egan.
Nominations for SACI 2017 awards
THE GOLD MEDAL
The award shall be made to a member of the Institute whose scientific contributions in the field of chemistry or chemical technology are adjudged to be of outstanding merit. The medal shall be accompanied by a monetary award to the value of R10 000, together with a suitably inscribed scroll.

THE RAIKES MEDAL
The award shall be made to a member of the Institute, under the age of 40 on 31 December in the year of the award, whose original chemical research shows outstanding promise, as judged by the person's publications in reputable journals. It is further stipulated that the research shall have been performed in South Africa. The medal shall be accompanied by a monetary award to the value of R2 500, together with a suitably inscribed scroll.

THE CHEMICAL EDUCATION MEDAL
The award shall be made to a member of the Institute who has made an outstanding contribution to chemical education, as judged by the person's published work in the previous five years. Published work may be in any form and may be related to any level or educational context. The medal shall be accompanied by a suitably inscribed scroll.

THE SASOL CHEMISTRY INNOVATOR OF THE YEAR MEDAL
The award shall be made to a member of the Institute based in South Africa whose scientific contributions in the field of chemistry or chemical technology during the year preceding the award are adjudged to be outstandingly innovative. The award shall comprise, in addition to the medal, a monetary award of a value determined by the sponsors, together with a suitably inscribed scroll. The recipient of the award shall be known as the "SASOL Chemistry Innovator of the Year".

THE SACI POSTGRADUATE AWARDS
The awards shall be made to student members of the Institute engaged in research towards a MSc or PhD degree at a South African University, or a MTech or DTech degree at a South African University of Technology. The number of medals awarded shall not exceed five per annum, and the awards are limited to one per institution. The recipients of the award shall be known as The SACI Postgraduate Awardees. The medal shall be accompanied by a monetary award to the value of R2000, together with a suitably inscribed scroll.

PROCEDURE FOR NOMINATION/APPLICATION
The merits of the work of candidates may be brought to the notice of the Council either by persons who desire to recommend candidates (nominations) or by the candidates themselves (applications). Nominations and applications should be received by the Institute not later than 30 April 2017.
Sections and Divisions news
Western Cape: RSC-SACI Dinner
Now let's face it, this year was a stressful year for all of us regarding the unrest on the various university campuses. Nonetheless, we managed to complete the academic year a little battle weary but still standing. The annual dinner hosted by SACI in collaboration with the RSC, offered a great chance for the Western Cape chemists to engage and socialize in a relaxed atmosphere. This was held on 29 November 2016 at the Neethlingshof Wine Estate in Stellenbosch and incorporated a short SACI AGM at the start of proceedings.

The Neethlingshof Wine Estate is a beautiful venue with a picturesque stone pine avenue and pristine Cape Dutch buildings. Along with the stunning landscape, this estate brings a sense of harmony and peace to the visitor. Before the start of the event we relaxed outside with a glass or two of Sauvignon Blanc. The meal began with a mushroom soup appetizer. And then we had two options for the main course – bobotie or a chicken dish. We were happy that both dishes satisfied our hunger and met expectations in terms of food quality.
The night was rounded off with a delicious chilled crème brulee. During the event we were also treated to a superb selection of wine and the best one in my opinion was the Shiraz. A Stellenbosch student enjoyed the wine so much that he, with his suit and all, slept the night in the bushes!

The keynote speaker of the evening, was Prof. Luigi Nassimbeni of UCT, who delivered an interesting account on his life journey. He spoke about his life, studies and how he met his wife. He gave a well-rounded and entertaining talk – even for the companions of chemists at the event. The evening also allowed for the awards of prizes in chemistry to students and researchers who have achieved either great academic success or made significant contributions to their particular field of chemistry.

Present at the event were a host of SACI prize-winners, as well as those receiving the special SACI Fellow award. These were Prof. Tim Egan (University of Cape Town), SACI 2016 Gold Medal Winner, Dr Ian Rogers (University of Cape Town) SACI Post-graduate medal award Prof. Ivan Green (University of Western Cape/ Stellenbosch University) SACI Life time membership award (in abstentia), James Moir Medalists: Ms J Lombard (Stellenbosch University), Mr Z Myalo (University of the Western Cape), Mr K Nyamayaro (Cape Peninsula University of Technology), Mr A Vicatos (University of Cape Town), SACI Fellows: Prof. Mike Davies-Coleman (University of the Western Cape) Prof. Luigi Nassimbeni (University of Cape Town/Cape Peninsula University of Technology), Prof. Helgard Raubenheimer (Stellenbosch University). Congratulations to all of them!

Photo of prizewinners: Front row (L to R): Mr A Vicatos, Mr K Nyamayaro, Mr Z Myalo, Ms J Lombard, Prof. T Egan, Prof. L Nassimbeni, Dr I Rogers; Back row (L to R): Prof. M Davies-Coleman, Prof. W van Otterlo (chairperson SACI), Prof. A Hutton (Past chairperson RSC), Prof. H Raubenheimer.
All in all, we had much fun and a memorable night. I'm sure all SACI members, students, academics and partners will concur that Dr. Blackie did an incredible job in organizing this great RSC-SACI Western Cape event.
Anton Hamann (SACI student member, 3rd year PhD-Stellenbosch)
RSC and SACI KZN Region Lunch and Awards Ceremony
On Friday, 2 December 2016 all KZN SACI and RSC members were invited to a lunch and awards ceremony at the School of Chemistry and Physics at the University of KwaZulu-Natal, Westville Campus. At the event the 2016 James Moir Medal was awarded to Miss Kimberleigh Govender of UKZN for achieving over 75% in her B.Sc. (Hons) degree. Miss Kaalin Gopaul was awarded the SACI Postgraduate Award (formerly the Sasol Postgraduate Medal) for 2016 for her innovation, independence, and enterprise during her postgraduate studies. The function also awarded Professor Bice Martincigh with the Merck Award as the senior author of a paper published in the South African Journal of Chemistry, adjudged to have made the most significant contribution (most citations) to a specific field of chemistry. Approximately 41 members of both SACI and the RSC attended the event and had a very enjoyable time together.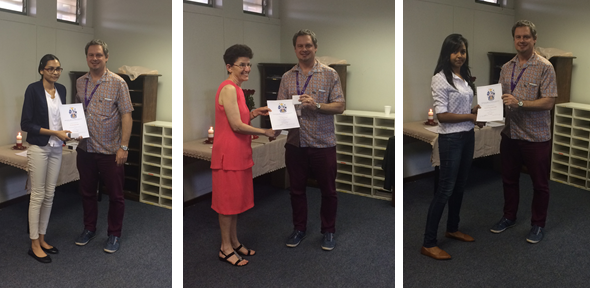 Left: The 2016 James Moir Medal was awarded to Miss Kimberleigh Govender. Middle: The 2016 Merck Award was received by Professor Bice Martincigh, and Right: Miss Kaalin Gopaul was awarded the SACI Postgraduate Award for 2016. The awards were handed over by Prof. Werner van Zyl, KZN Section Chair.
Eastern Cape Frank Warren Organic Chemistry Conference
The 2016 edition of the Frank Warren Conference, the 14th since the conference series started in 1961, saw over 200 delegates gather at Rhodes University in the early part of December 2016 for four days of great research, wonderful discussions and amazing interactions.
The conference was a success by all accounts, hosting 9 international speakers from Germany, the UK, Argentina, Spain, Cameroon, and Brazil, 9 keynote and plenary speakers from South Africa, and almost 40 oral presentations and 24 flash poster talks. In keeping with recent FW conferences the LOC tried to give as many opportunities to student presenters, alternating with invited and plenary talks. This mixture of new and experienced speakers allowed for a relaxed, honest and open interaction throughout the conference.

Apart from the entertainment and outings (we even saw tigers – what more can you ask for?), the quality of the research and the variety of themes presented during both the oral sessions and the extensive poster sessions did not disappoint. South African Organic Chemistry is truly on par with the best in the world and is on a winning trajectory.

More than a few speakers reflected on the science as well as their scientific journey, including Prof Charles De Koning who delivered the Frank Warren Memorial Lecture, taking us "Around the World in 80 Molecules". The conference also saw a reunion of the 1995 Frank Warren Conference held at Aldam in the Free State - several keynote speakers at the 2016 conference had been postgraduate students attending their first Warren conference. This is in some way a testament to the legacy of Prof Warren, whose passion for organic chemistry continues to inspire generations of chemists in seeking solutions to local and global problems.

A great THANK YOU to all the volunteers, IT- and web-design staff, local organisers, catering, venue and hospitality staff, transport personnel, SACI National office, Mrs Tarr, and all those involved both in the limelight and behind the scenes.

Conferences like this are impossible without sponsorship, and we were very fortunate despite following hot-on-the-heels of the FeesMustFall campaign to have generous sponsors. Several loyal supporters have been involved in SACI conferences for many years and provided sponsorship in exchange for exhibition space, and I would like to thank them, especially Anton Paar, Perkin Elmer, Microsep, Lasec, Separations and B & M Scientific. In addition, several other sponsors gave us pens, lanyards, bags, wine, books, prizes, and even accommodation and transport. All these sponsorships allowed us to keep the costs of the conference affordable and still end up balancing the books. We hope the connections and sales pitches made during the conference pay off in 2017.

Another feature of this conference was the participation of researchers from Science Councils like the CSIR, ARC, and MRC, as well as a small but valuable number of industry attendees. I know the LOC shares my hope that the 2019 conference will see even more growth in this sector.

Congratulations to our prize winners. The quality of presentations was so high that our judges had a really hard time deciding on these, but in the end we awarded 6 cash and book prizes courtesy of the Royal Society of Chemistry and Wiley VCH.
Finally, the conference ended with pleasingly well-attended Workshop (apart from dinner at the Rat-n-Parrot of course), on Transforming Organic Chemistry Education at Universities. This workshop received some passionate input from both students and lecturers, generated several good ideas, and ended in a call to host a symposium during 2017 in order to unpack some of the proposals. We all learned a great deal from the wonderfully creative ideas that are being implemented around the country, so watch this space for details of the symposium.
Best oral and best workshop
J Ferreira - University of Cape Town
Poster Prizes
M Ryland - University of Cape Town
V Ramaotsao - CSIR
B Marakalala - University of Johannesburg
ND Thobejane - Tshwane University of Technology
DG Van Greunen - University of Pretoria
L van der Westhuizen - Stellenbosch University
N Ngqinayo - Wits University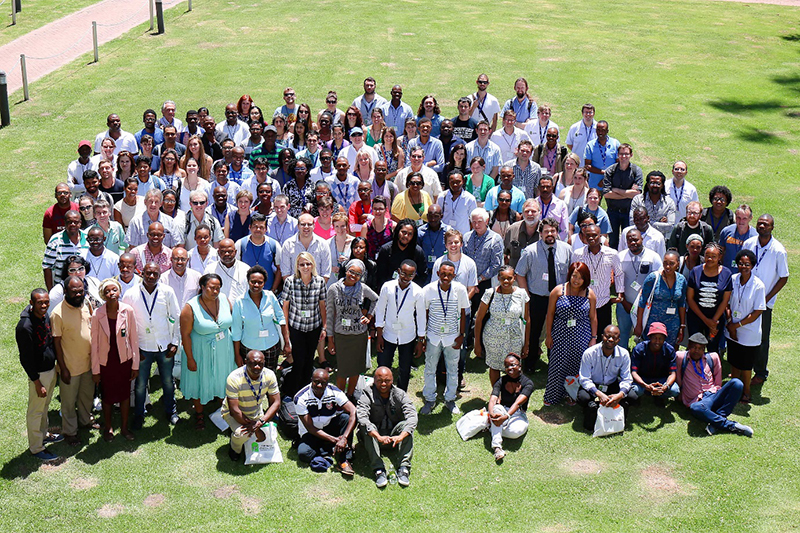 Conference photo


Some of the "Ou balle" from the 1995 Aldam FW conference, most of whom had been students at the time.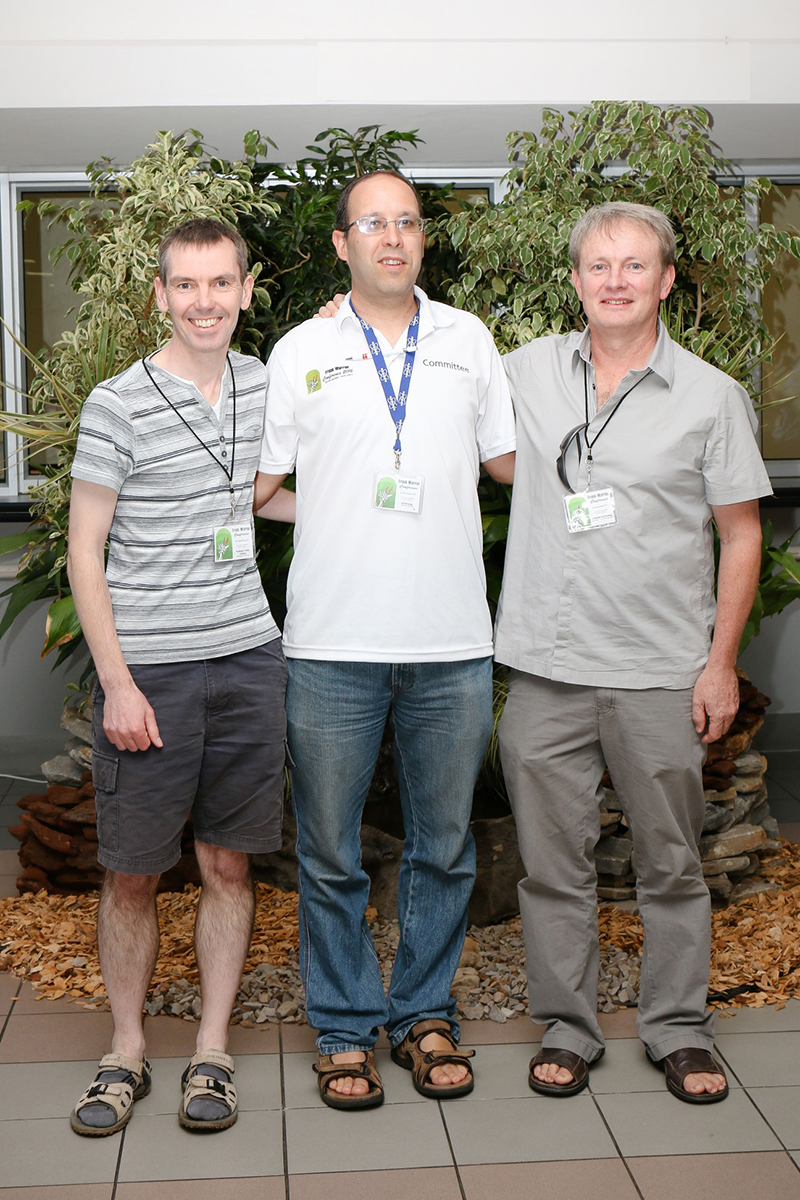 Professor O'Brien one of our Plenary speakers with the conference chair and our Frank Warren Lecturer Prof De Koning.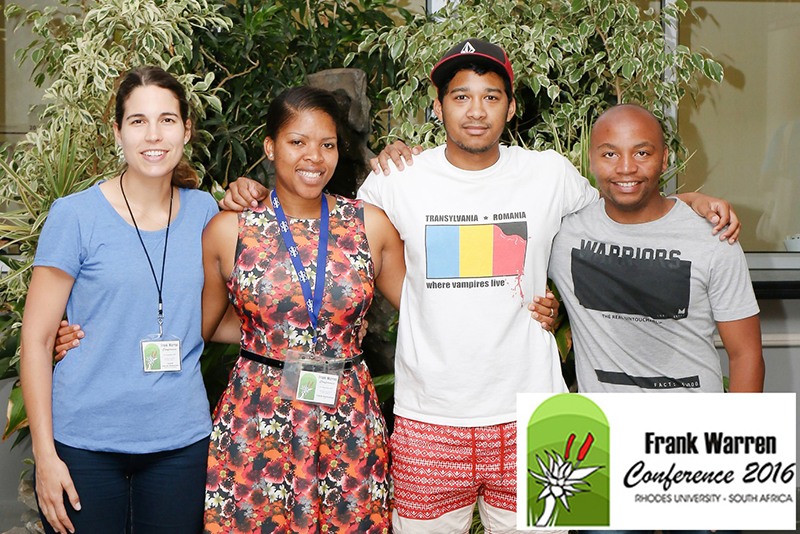 Four of the five oral and poster prize winners.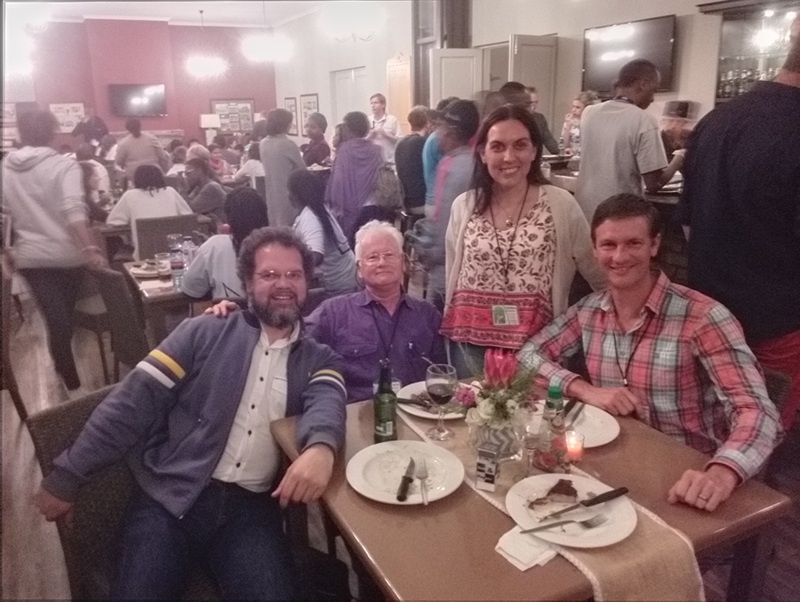 Catching up with old friends and new ones during the Frank Warren Celebration Evening. Left to Right Dr Vincent Smith, Prof Bruno Maggio and Dr Raquel Vico (from Argentina), and Dr Gareth Arnott.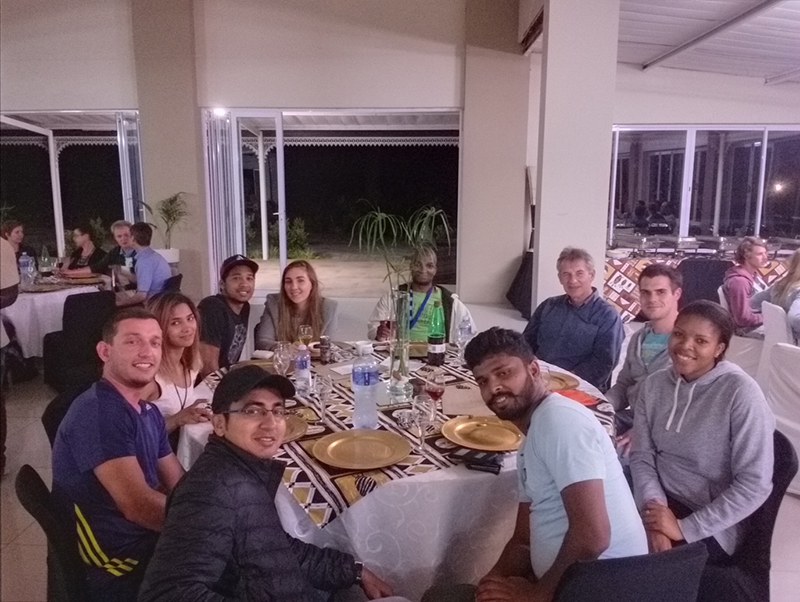 Conference Dinner
Eastern Cape Postgraduate Regional Seminar
Amid the threat of protest action, and despite the some of our participants having initially been turned away by the over-zealous security personnel, the much delayed SACI Postgraduate seminar got underway at Rhodes University on the 28th of October.

The event was extremely well attended with almost 140 students and researchers from the University of Walter Sisulu, University of Fort Hare, Rhodes University, and Nelson Mandela Metropolitan University.

Distinguished Professor welcomed everyone to Rhodes, and thanked our event sponsors, Perkin Elmer, Aspen Pharmacare, Rhodes University and SACI EC.

The talks were divided into two sections, the first saw Honours, BTech, and 1st year MSc compete. Congratulations to Aidan Battison (NMMU), Zandile Mhlwatika (Fort Hare) for first and second prize.

The session after tea was dedicated to PhD and final year MSc students, where Tafadzwa Murinzi from Rhodes took the title, narrowly beating Cloudius Sangandira from Innoventon. This was also the first time that students from Innoventon at NMMU have participated in the regional seminars and the flow-chemistry projects presented generated a lot of discussion and debate.

A few other awards were given out during the evening, including three James Moir Medals to S Pakade, A Battison, and RM Taylor, as well as the Raikes Medal to Prof Zeni Tshentu.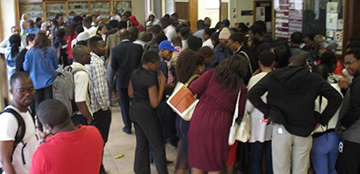 Congratulations to all our speakers, especially to our prize winners, whose hard work showed in the well-polished presentations.
We wish all our students success in 2017.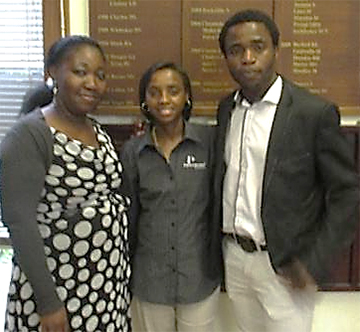 Tafadzwa (RU) with Rita Williams from Perkin Elmer and Cloudius (NMMU).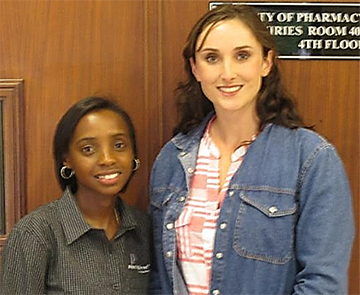 Aidan not only walked away with one of the top prizes for the evening, but she was a 2016 James Moir Medal Recipient.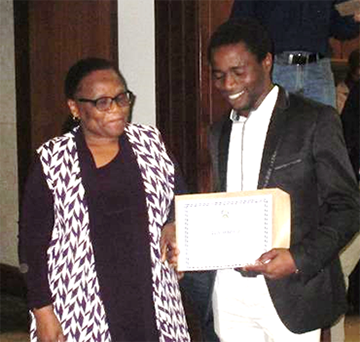 Professor Nyokong handed out certificates and congratulated all our winners.
IUPAC
For the latest news see: http://www.saci.co.za/iupac.html
OPCW (Organisation for the Prohibition of Chemical Weapons)
Recently SACI (and FASC and other African Chemical Societies) gave support to a declaration on not using chemicals in warfare in Syria. We have reived information on this issue. "The purpose of this message is to draw your attention to the recent OPCW press release, linked below on our website, which aims to draw international attention to your declarations:

https://www.opcw.org/news/article/chemical-industry-councils-and-scientific-societies-condemn-use-of-chlorine-as-weapon/

You will note that we have also received important messages of support from key actors in the global chemical industry.

The OPCW looks forward to your continuing support, and we encourage you to remain in touch on further ways that we can work together to safeguard the peaceful uses of chemistry and the norm against chemical weapons.

Joseph Ballard
Senior Policy Officer
Office of Strategy and Policy
Organisation for the Prohibition of Chemical Weapons

African Journals of Chemistry
South African Journal of Chemistry

This Journal is published electronically. The webpage is: http://www.saci.co.za/ The South African Journal of Chemistry, published by the South African Chemical Institute, has been publishing high quality papers, in all fields of Chemistry for over 50 years. The Journal went fully electronic in 2000 and is freely available through open access online (http://reference.sabinet.co.za/sa_epublication/chem). It is a CAS-abstracted publication and is listed in Current Web Contents. It has retained its status as an accredited publication with the South African Department of Higher Education and Training.

An article in the SA Journal of Chemistry relating to the early history of SACI and one of its members was written by our local 'SACI Historian' Peter Loyson in 2016. The article "Mine Air Analysis on the Reef in the Early 1900s – Observations From the Work of James Moir, Government Analyst" [Peter Loyson; S. Afr. J. Chem., 2016, 69, 208–212]
ABSTRACT
James Moir was a pioneering chemist in the early 1900swhoplayed a leading role in various chemical societies in South Africa. He was heavily involved in the gold mining industry, and as the Government Analyst in Johannesburg he was responsible for mine air quality in the Witwatersrand mines. This article traces his contributions dealing with the analysis of mine air in the early 1900s as reported in the local Journal of the Chemical, Metallurgical and Mining Society of South Africa. It deals withCO2 and CO analyses and the methods used in those days, describes his work on gases arising from explosions of gelignite, and covers the two main air-sampling techniques for dust analysis used in his time, namely the sugar tube method and the konimeter.

2016 was another good year for the SA Journal of Chemistry with 31 articles appearing in in Journal

Lack of co-crystal formation with cyclotriphosphazenes : a cautionary tale, South African Journal of Chemistry, 69, 35-43 : erratum

H. Wahl, D.A. Haynes, T. Le Roex; South African Journal of Chemistry, 69, i (2016)

Partial oxidation of n-pentane over vanadium phosphorus oxide supported on hydroxyapatites

Sooboo Singh; South African Journal of Chemistry, 69, 1-8 (2016)

Letitia Pillay, Andrew Kindness; South African Journal of Chemistry, 69, 9-14 (2016)

The synthesis of carbon nanomaterials using chlorinated hydrocarbons over a Fe-Co/CaCO3 catalyst

Winny K. Maboya, Winny K. Maboya, Neil J. Coville, Sabelo D. Mhlanga, Sabelo D. Mhlanga; South African Journal of Chemistry, 69, 15-26 (2016)

Kudzanai Chipiso, Wilbes Mbiya, Thai Tran, Reuben H. Simoyi, Reuben H. Simoyi; South African Journal of Chemistry, 69, 27-34 (2016)

Lack of co-crystal formation with cyclotriphosphazenes : a cautionary tale

Helene Wahl, Delia A. Haynes, Tanya Le Roex; South African Journal of Chemistry, 69, 35-43 (2016)

Thavendran Govender, Usha Govinden, Chunderik Mocktar, Hendrik G. Kruger, Jelena Veljkovic, Nikola Cindro, Damir Bobinac, Ivana Zabcic, Kata Mlinaric-Majerski, Nikola BasaricSource; South African Journal of Chemistry, 69, 44-50 (2016)

Synthesis, physical and antimicrobial studies of ferrocenyl-N-(pyridinylmethylene)anilines and ferrocenyl-N-(pyridinylmethyl)anilines

Eric M. Njogu, Bernard Omondi, Vincent O. Nyamori; South African Journal of Chemistry, 69, 51-66 (2016)

Speciation of chromium and vanadium in medicinal plants

Isiaka A. Owolabi, Khakhathi L. Mandiwana, Nikolai Panichev; South African Journal of Chemistry, 69, 67-71 (2016)

Organocatalyzed Mannich reactions on minocycline : towards novel tetracycline antibiotics

Tirivashe E. Chiwunze, Rafiatu Azumah, Melissa Ramtahal, Anou M. Somboro, Hendrik G. Kruger, Thavendran Govender, Tricia Naicker, Per I. Arvidsson; South African Journal of Chemistry, 69, 72-78 (2016)

Anodized Edge-plane pyrolytic graphite for electroanalysis of pantoprazole in tablet dosage forms and human urine samples

Mojtaba Hadi, Ali Ehsani; South African Journal of Chemistry, 69, 79-87 (2016)

A review of using spray pyrolysis through sol-gel materials in the synthesis of cathode materials for lithium-ion batteries : review article

Charmelle D. Snyders, Ernst E. Ferg, Julian Schuelein, Holger Loewe, Julian Schuelein; South African Journal of Chemistry, 69, 88-97 (2016)

QuEChERS method development for bio-monitoring of low molecular weight polycyclic aromatic hydrocarbons in South African carp fish using HPLC-fluorescence : an initial assessment

Afolake Olufunmilola Oduntan, Nikita Tawanda Tavengwa, Ewa Cukrowska, Luke Chimuka, Sabelo Dalton Mhlanga
South African Journal of Chemistry, 69, 98-104 (2016)

Graphene oxide/zinc oxide nanocomposite : a superior adsorbent for removal of methylene blue - statistical analysis by response surface methodology (RSM)

Seyed A. Hosseini, Sepideh Mashaykhi, Shabnam Babaei;South African Journal of Chemistry, 69, 105-112 (2016)

Towards a mechanistic understanding of rheological behaviour of water-in-oil emulsion : roles of nanoparticles, water volume fraction and aging time

Amin Pajouhandeh, Ali Kavousi, Mahin Schaffie, Mohammad Ranjbar; South African Journal of Chemistry, 69, 113-123 (2016)

Determination of mercury in selected polluted sediments using HPLC-ICP-MS in west bank area, Western Cape, South Africa

Shirley Le Roux, Priscilla Baker, Andrew Crouch; South African Journal of Chemistry, 69, 124-131 (2016)

Determination of metformin at metal-organic framework (Cu-BTC) nanocrystals/multi-walled carbon nanotubes modified glassy carbon electrode : research article

Mojtaba Hadi, Haniyeh Poorgholi, Hossein Mostaanzadeh; South African Journal of Chemistry, 69, 132-139 (2016)

Characterization and speciation modelling of cyanide in effluent from an active slimes dam

Elisee N. Bakatula, Hlanganani Tutu; South African Journal of Chemistry, 69, 140-147 (2016)

Subsequent separation and selective extraction of thorium (IV), iron (III), zirconium (IV) and cerium (III) from aqueous sulfate medium

E.H. Borai, A.M. Shahr El-Din, E.M. El Afifi, R.F. Aglan, M.M. Abo-Aly; South African Journal of Chemistry, 69, 148-156 (2016)

4-(4'-Nitrobenzylideneimino)-3-methyl-5-mercapto-1, 2, 4-triazole, a new chromogenic reagent for extractive spectrophotometric determination of copper (II) in pharmaceutical and alloy samples

Abdul B. Shaikh, Umesh B. Barache, Shashikant H. Gaikwad, Mansing A. Anuse; South African Journal of Chemistry, 69, 157-165 (2016)

Regression analysis in analytical chemistry. Determination and validation of linear and quadratic regression dependencies

Rafal I. Rawski, Przemyslaw T. Sanecki, Klaudia M. Kijowska, Piotr M. Skital, Dorota E. Saletnik; South African Journal of Chemistry, 69, 166-173 (2016)

Development and validation of an ecofriendly HPLC-UV method for determination of capecitabine in human plasma : application to pharmacokinetic studies

Sepideh Hassanlou, Mehdi Rajabi, Abdol Ali Shahrasbi, Minoo Afshar; South African Journal of Chemistry, 69, 174-179 (2016)

Application of quaternized activated carbon derived from Macadamia nutshells for the removal of hexavalent chromium from aqueous solutions

Vusumzi E. Pakade, Londolani C. Maremeni, Themba D. Ntuli, Nikita T. Tavengwa; South African Journal of Chemistry, 69, 180-188 (2016)

Comparative study of different column types for the separation of polar basic hallucinogenic alkaloids

Somandla Ncube, Ewa Cukrowska, Luke Chimuka, Anna Poliwoda, Piotr Wieczorek; South African Journal of Chemistry, 69, 189-195 (2016)

Quantitative studies of Co(II)-thymoquinone complex using cyclic voltammetry

Farah Kishwar; South African Journal of Chemistry, 69, 196-200 (2016)

Identification of chelidonic acid as the predominant ligand involved in Ni uptake in the hyperaccumulator Berkheya coddii

Chrisanne Naicker, Andrew Kindness, Letitia Pillay; South African Journal of Chemistry, 69, 201-207 (2016)

Mine air analysis on the Reef in the early 1900s - observations from the work of James Moir, government analyst

Peter Loyson; South African Journal of Chemistry, 69, 208-212 (2016)

Fynbos products : what's in the bottle? An investigation of terpenoid constituents in fynbos products by GCxGC-TOFMS and GC-HRT

Charles P. Gorst-Allmana, Yvette Naude; South African Journal of Chemistry, 69, 213-217 (2016)

Liquid phase adsorption of Rhodamine B dye onto acid-treated Raphia hookeri fruit epicarp : isotherms, kinetics and thermodynamics studies

Adejumoke Abosede Inyinbor, Folahan Amoo Adekola, Gabriel Ademola Olatunji; South African Journal of Chemistry, 69, 218-226 (2016)

Heterogeneous oxidation of alkenes : the role of silica-supported bimetallic and trimetallic catalysts

Hitesh M. Parekh, Jignesh K. Valand, Holger B. Friedrich; South African Journal of Chemistry, 69, 227-235 (2016)

Symmetrically and unsymmetrically substituted bis(pyrazole)-palladium(II) and nickel(II) halides as pre-catalysts for ethylene dimerization and Friedel-Crafts alkylation of toluene and benzene

Lerato P. Moeti, James Darkwa; South African Journal of Chemistry, 69, 236-243 (2016)

African Corrosion Journal (online). Commenced in 2015 – a peer reviewed corrosion journal. This journal may be of interest to the "practical" chemists amongst the SACI membership. https://view.publitas.com/icp-1/african-corrosion-journal


African Journal of Pure and Applied Chemistry
Submit manuscripts: http://ms.academicjournals.me; Editorial office: ajpac@academicjournals.org
African Journal of Chemical Education
Enquiries and manuscripts should be addressed to the Editor-in-Chief: email eic@faschem.org, PO Box 2305, Addis Ababa, Ethiopia. AJCE, 2016, 6(1) ISSN 2227-5835 The online version appears in the FASC website (www.faschem.org) and in the AJOL website (www.ajol.info)
CAIA Newsletter
The latest issue of CAIA news is available. Go to: http://www.caia.co.za/news/chemnews/
or e-mail: caia@iafrica.com for pdf files of news and information.
Society of Cosmetic Chemists
ANNUAL GENERAL MEETING OF THE SOCIETY OF COSMETIC CHEMISTS
To be held on the 9 February 2017, at 16:30, at Coschem Office, Unit 25 G, Lifestyle Riverfront Office Park, 21 Bosbok Rd, Randpark Ridge
RSC
Royal Society of Chemistry and Royal Society Partnership for International Collaborations
The Royal Society of Chemistry is partnering with the Royal Society to support International Exchanges in the chemical sciences and funding is now available to support new collaborations between scientists in the UK and those in sub-Saharan Africa (excluding South Africa). This is an excellent opportunity and you can apply for up to £12,000 to cover the costs of research and travel, including up to £2,000 for research expenses.

and Africa to discuss opportunities for collaboration. For those of you involved in the recent PACN Congress
Please reach out to colleagues and friends in the UK, or other RSC activities, this scheme is an ideal way of moving forward with those conversations and collaborations.
The application must be submitted by the UK partner, but the proposal is a joint document and funding is available to fund both sides of the collaboration. For more details on eligibility or the application process, please contact the Royal Society directly.
If you are looking to find a partner in the UK or Africa, I would encourage you to speak to your colleagues to utilise their networks of contacts across the world and the PACN LinkedIn Group can also be used to reach out to the PACN community in the UK and Africa, https://www.linkedin.com/groups/1900756.
Apply now: https://royalsociety.org/grants-schemes-awards/grants/international-exchanges/

Closing date: 7th March 2017 (with other opportunities later in the year, with closing dates of 13th June and 17th October 2017).
Dr Helen Driver (nee Bailey) MRSC
Senior Programme Manager, Africa
Royal Society of Chemistry
Thomas Graham House,
Science Park, Milton Road
Cambridge, UK
CB4 0WF
driverh@rsc.org
www.rsc.org
GC-MS Training
This will apply to non-SA Nationals studying in SA


First look: GC-MS training: a hands on approach (Kenya)

3–7 April 2017, Nairobi, Kenya


GC-MS training: a hands on approach (Kenya) is part of the Royal Society of Chemistry's partnership with GSK to enhance the capabilities of African scientists in modern analytical techniques. We will train over 400 scientists by 2020 and these courses will take place regularly in Kenya, Ethiopia, Ghana and Nigeria.

This course has been independently verified through peer review and formally approved by the Royal Society of Chemistry. Places are limited to 15 delegates only. Applications must be received by 13 February 2017. Travel allowances (including all travel, accommodation and food) will be provided.

Please note, applicants from Nigeria, Ethiopia and Ghana are not eligible to apply for this course, there will be further courses in your countries later in 2017.

We look forward to receiving your application. Please share this opportunity with colleagues from across Africa.

Dr Helen Driver
Senior Programme Manager, Africa
@hvdriver
Pan Africa Chemistry Network LinkedIn Group
SACI and SACI related Conference events
INORG2017 Second Notice



1st Africa Energy Materials Conference (AEM-2017)

University of Pretoria Conference Centre, Pretoria, South Africa, 28 - 31 March 2017. More information is available at: www.africaem2017.co.za
The 3rd TCS International Conference and the 6th FASC Congress


Others
The 23rd International Conference on the Chemistry of the Organic Solid State (ICCOSS-XXIII) will take place on the beautiful campus of Stellenbosch University (South Africa) from 2-7 April, 2017. For further information about the conference we invite you to visit the web site at http://iccoss2017.co.za. Please note the following important dates: Abstract submission, 25 November 2016; Early registration, 16 December 2016 Len Barbour (Conference Chair)
The 3rd TCS International Conference and the 6th FASC Congress, Chemistry for Sustainable Development and Improved Livelihood Arusha, Tanzania http://tcs-tz.org/tcs-fasc2017/
IUPAC 2017 - July 6-14, 2017, São Paulo, Brazil
Workshops

UNDERSTANDING XRF SPECTROMETRY 16 - 27 January, 2017 at UCT
Introduction
The Department of Geological Sciences will host a summer course for industry, research, and academia on the theory and practice of XRF Spectrometry from 16 to 27 January 2017. Initiated by Emeritus Prof James Willis, and now organized hosted by UCT in association with PANalytical B.V., this course presents the principles and practice of XRFS analysis. The emphasis will be on the application of the technique to geological materials, but applications in the cement, metals, and other industries and in environmental analysis will also be discussed.

Lectures will be given mostly by Dr B.A.R. Vrebos on both wavelength and energy dispersive XRF spectrometry. There will be practical exercises that will include an introduction to modern wavelength and energy dispersive XRF spectrometers, and a practical introduction to the various procedures necessary for successful major and trace element calibrations and data reduction for both techniques. Participants will carry out tutorial calculations on test data sets to familiarize themselves with the procedures involved. They will receive a comprehensive set of course materials, including "Understanding XRF Spectrometry" (a two-volume book by James Willis and Andrew Duncan published in 2008 by PANalytical B.V.) together with lecture handouts, notes, and other useful documentation. As always, the contents of the course and its presentation will be vendor neutral. It is NOT a course on the instrumentation or software of any particular vendor.

Participants completing the course should be in a strong position to successfully carry out XRF analysis on any vendor's machine. A certificate of attendance will be issued.

Course Structure
The course is divided into two distinct parts:

The first week comprises an introduction to the fundamentals of XRFS, qualitative analysis, selection and setting of instrumental parameters, matrix effects and how to deal with them, counting statistics, sampling procedures, sample preparation, and an introduction to quantitative XRFS analysis;

The second week covers in detail quantitative analysis for both major and trace elements, background and spectral overlap corrections, standardisation, absorption and enhancement problems and corrections, influence (alpha) coefficient corrections, commercial and manufacturer's software for correcting for inter-element matrix effects, special sample preparation techniques, analysis of small samples and solutions, and different applications of XRFS.

Each week can be attended separately, BUT persons attending the second week on quantitative analysis MUST have attended previously the introductory first week, although not necessarily in the same year. This is a very full, very intensive course containing an enormous amount of detail and building very rapidly on itself. For participants with little theoretical or practical knowledge of XRFS, it is strongly recommended that only the introductory week be attended in the first year. After gaining a year's experience in the laboratory and building on the knowledge gained from the first week, such participants will be in a much stronger position to extract the maximum advantage from the second week of the course. It is strongly recommended that in their second year, such participants should attend the full two-week course in order to reinforce their basic knowledge and thus gain the greatest benefit from the full course. All previous participants who have adopted this approach have found it to be extremely valuable and beneficial.

More information regarding registration will follow. jenny@wirsam.com
Positions available
Lecturer/Senior Lecturer at Wits University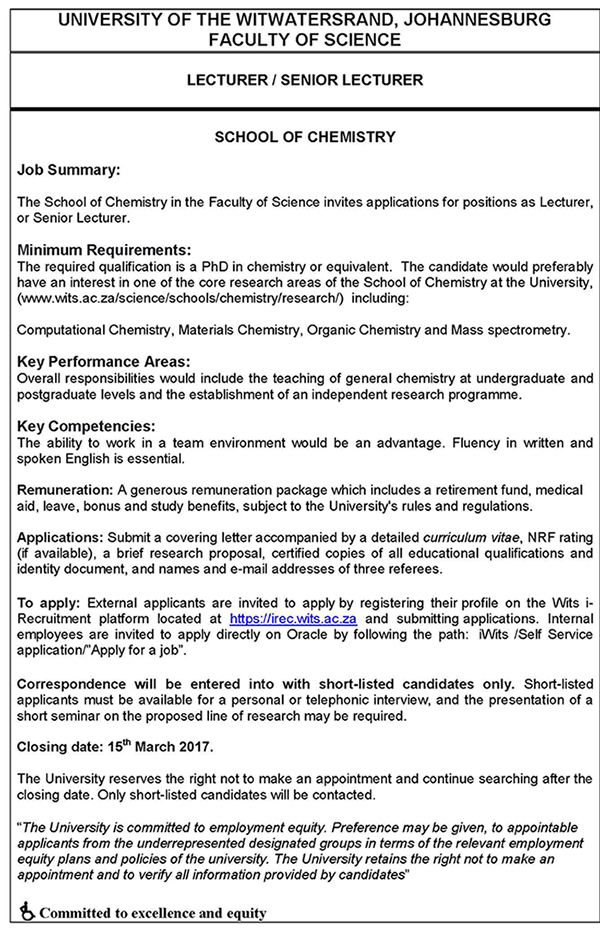 Research Officer or Principal/Senior Technician at Wits University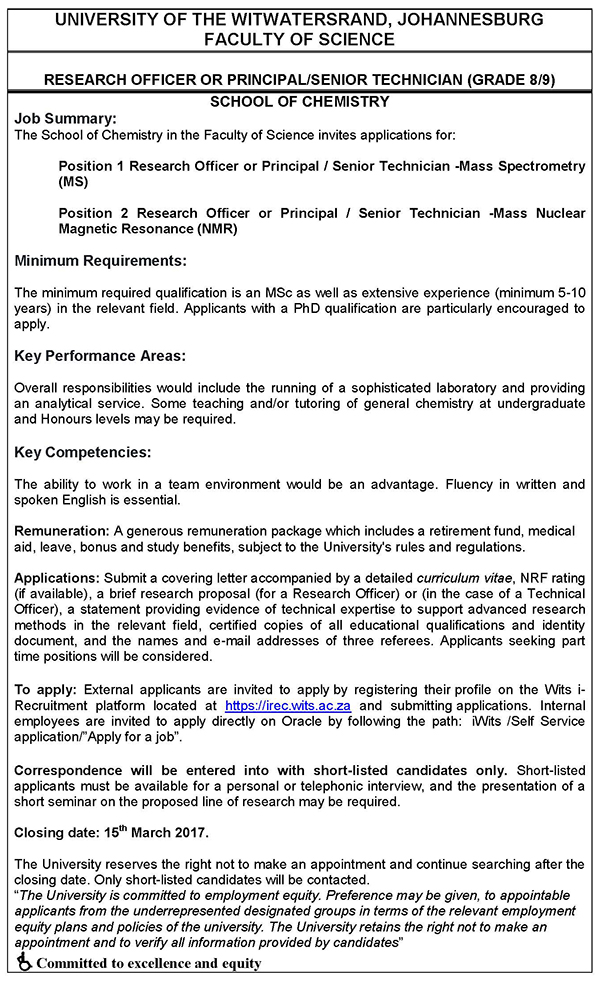 SEFAKO MAKGATHO HEALTH SCIENCES UNIVERSITY - SCHOOL OF SCIENCE & TECHNOLOGY
LECTURER, GENERAL CHEMISTRY - FOUR (4) MONTHS FIXED-TERM CONTRACT APPOINTMENT: FEBRUARY-MAY 2017
Requirements:
MSc in Chemistry
Experience in teaching Chemistry at tertiary level will be an advantage
Duties:
The successful candidate will be required to:
Conduct lectures, tutorials, practicals and assessments in First-Year General (Inorganic & Organic) Chemistry
Contribute to administrative duties in the Department of Chemistry
Contact details:
Prof Nana Agyei
(012) 521 4367/5699
082 927 0420
nana.agyei@smu.ac.za
Scholarship Opportunities for MSc and PhD studies in 2017, Molecular modelling in organic chemistry at UP