SACI News January 2018


A month of the new year has passed amazingly quickly and we are now already in February. I hope you were all re-energised to begin 2018 on a good footing. On behalf of SACI and its Executive, I want to wish you success, good health and energy to tackle the many tasks that lie ahead. I also hope that you will continue your association with SACI and that together we can grow the Institute from strength to strength.

I have taken over the production of this newsletter from Neil Coville. He has served as the newsletter editor for over ten years and grew it into this regular form of communication for SACI members. I want to thank him most sincerely for his drive, energy and many hours of voluntary work for the Institute. It is members like Neil, who keep our Institute vibrant and forward-thinking.

The new year has started with a number of challenges: the Cape Town water crisis and strikes at academic institutions, amongst many others. These situations should not depress us but remind us that as chemists we have the potential to provide solutions for a number of the world's problems. Dire situations can drive us to unleash our creative thinking and lead us to find innovative solutions.

May 2018 bring you happiness and prosperity in both your personal and professional life.
Bice Martincigh
Content
From the President's Desk

SACI office address and times
Advertising in the SACI newsletter

SACI Members – 40 years of membership

Of interest – Predatory Journals

Sections and Divisions News

Green Chemistry Division – competition

PrChemSA Feedback

NRF Awards – Call for nominations

RSC News

NSTF News

IUPAC

South African Journal of Chemistry

African Journals of Chemistry

CAIA Newsletter

SACI and SACI related conference events

Other Conferences

Equipment

Workshops

Vacancies
From the President's Desk
On the behalf of SACI Executive and its Council, I would like to wish you a prosperous 2018. I hope you are all revitalised and refreshed to begin the New Year with lots of enthusiasm as we tackle the various tasks and responsibilities that lie ahead for us.

My special welcome goes to those who have just joined the Institute, it's the right choice you made. For those who have been members, we appreciate your faith and support to the Institute, especially in the various ways that you have been, and still are, contributing to the well-being of SACI. Remember, the Institute continues to flourish due to all its members and the associates that engage actively and positively to the Institute's mission and vision. Hence, from me it's a big Thanks to members like you, who enable us to exceed our goals and expand our horizon because of the patronage and commitment. Thank you so much!

This year is a special year where we celebrate the 100 years of our journal, the South African Journal of Chemistry. The Editors have plans for a special edition, hence, I urge all researchers to look forward to and submit your articles. All paper are freely available online at
http://journals.co.za/content/journal/chem/browse?page=archive-issues. Also, it is great to note that in the last decade, the number of papers per year have steadily increased, hence, I would wish to take this opportunity to thank all the Editors and Sub-editors for their great and thankless efforts, for which we are very appreciative. Also, our sincere thanks goes to the authors of various published articles. We urge you to continue to contribute to the SA Journal of Chemistry as we wish for other researchers to step in as we increase our publication numbers and citations, which should boost the journal's impact factor as we showcase the various important fields of chemistry that we are engaged in.

Our forthcoming 43rd National Convention of SACI (SACI 2018), to be held at the CSIR Convention Centre, will be hosted by the North Section, from 2 – 7th December 2018. This will be the first whereby the various Divisions will also have an opportunity to actively partake in the scientific programme. With the new National Convention structure we hope after every three years to bring and reunite all the SACI Divisions under this one event. There will be an excellent line-up of eminent plenary speakers and SACI award lectures, as well as invited lectures. Hence, it promises to be a very exciting and stimulating event for sharing and gaining new ideas. Also, we have the Analitika 2018 Conference which will be held in Limpopo, South Africa, from 22 to 26 July 2018 at the Legend Golf and Safari Resort; from the 3 – 5th April, we will be having the International Symposium on Electrochemistry, "Pure and Applied Electrochemistry", organised by Electrochemistry SA, a Division of SACI. During this year, among other SACI-affiliated conferences, we will also be having the SACI Young Chemist's Symposia organised by various Sections. Hence, the year is full of great activities ahead, hence, I urge you all to attend to some of this events!

I hope you are aware that our Institute has obtained SAQA recognition as a Professional Body that now registers and designates individuals with the Professional Chemist designation. There are various benefits associated with this recognition and they can be found on the SACI website: http://www.saci.co.za/Registe_Professional_Chemist_SACI.html and later in this newsletter.

In conclusion, I would like to thank each and every member of the Institute, the Council members and the Executive members, including the SACI Secretariat, Mrs Laila Smith, and our affiliate societies, for making a contribution to the growth of SACI as an institute in many respects. Thank you for being the life of the Institute and once again, best wishes for 2018!
Yours sincerely,

Vincent O. Nyamori
SACI – President
SACI office address and times
The SACI office, run by Laila Smith is located on the 1st Floor of Gate House, room 124. The telephone number is 011 717 6705 and e-mail address is: saci.chem@wits.ac.za. The cell number is 061 282 3477.

Office hours are from 8.30 am till 1.00 pm. She can be contacted at any time during her office hours.
Advertising in the SACI newsletter
The newsletter provides a means of getting messages to our membership. Currently the SACI membership stands at over 1000. This newsletter thus provides a means of advertising employment opportunities, conferences and workshops, and even for companies/Universities to promote themselves. We encourage members to use the Newsletter for advertising purposes. All SACI related conferences and events are advertised for free; if not a SACI related event there could be a small charge. For advertising costs contact Laila at the SACI office.
SACI members – 40 years of membership
An attempt was made to connect up with some of our older SACI members – those who have been involved with SACI for 40 years or more. The idea was to collect some historical information and add the information to the Newsletter. In this way we would have a record of events from the past. The response has been quite amazing and this has made us re-think our strategy about this collected information. The SACI Exec is determining how best to get this information out to members. It might be that we will have a monthly section about the history of SACI. We welcome members who wish to contribute to send material to Laila Smith saci.chem@wits.ac.za (saci.chem@wits.ac.za).

Contributor: Neil Coville
Of interest – Predatory Journals
We have been made widely aware of the unfortunate rise in predatory journals and publishers. The National Research Foundation of South Africa has published a statement on this (http://www.nrf.ac.za/media-room/news/nrf-statement-predatory-journals-deceptive-publishers). In addition, Mouton and Valentine assessed the extent of South African authored articles published in predatory journals (see South African Journal of Science, Volume 113 (No. 7/8) 2017 DOI: https://doi.org/10.17159/sajs.2017/20170010). But, how do we identify these predators? A recent Opinion in Chemistry World (https://www.chemistryworld.com/opinion/academic-versus-predator/3008424.article) highlights this scourge and mentions an article by Shamseer et al. that provides a 13-point checklist that scientists can use to identify these predators (https://bmcmedicine.biomedcentral.com/articles/10.1186/s12916-017-0785-9).
Sections and Divisions news
Our Sections and Divisions have been earning a well-deserved rest over the festive season so there are no events to report on over this period.
Green Chemistry division – competition
"In an effort to increase the visibility of the Green Chemistry that is already taking place in South Africa and at the same time highlighting possible opportunities for more people to "green" their research."

The Green Chemistry Division would like to invite nominations for the best green chemistry paper by a South African chemist/group. The prize will be a sponsored talk at the SACI National Convention in 2018. Nominations should be sent to Rosa Klein (r.klein@ru.ac.za).

Contributor: Rosa Klein
PrChemSA feedback
It is now just over a year since SACI was granted the authority to award the PrChemSA designation by the South African Qualifications Authority SAQA. Approved applications are nearing the fifty mark as many members, and also non-members who decided to join in order to become PrChemSA, have been approved to receive this professional designation.

The PrChemSA designation represents the highest standard of professionalism, competence and commitment to keep pace with advancing knowledge in the field of chemistry. It gives those members who achieve it, professional standing and recognition of their chemistry knowledge and experience.

In order to qualify for PrChemSA, not only do members need to have certain academic qualifications but they must have relevant experience in practising chemistry. However, such is the broad spectrum of careers in chemistry that there are many types of relevant experience which can count towards this designation.

There is a small administrative fee charged when submitting the application as references need to be checked and time taken to verify a candidate's suitability. There is also an annual fee, in addition to the normal SACI membership, fee since all PrChemSA will be required to submit proof of their continuing professional development (CPD) on an ongoing basis and this too must be checked and assessed.

Full details of the requirements, the application procedure and the CPD procedure can be found on the SACI website but a summary of the requirements is also shown below.

All SACI members who have the required academic qualifications and experience are encouraged to apply for the PrChemSA designation. It should be noted that it is NOT essential to have an Honours degree in Chemistry in order to qualify (or indeed to become a full member of SACI). People with lower qualifications but longer periods of experience in the chemical field can qualify by recognition of prior learning (RPL).

It is hope that in future, obtaining the PrChemSA designation will be seen as the pinnacle of one's career in chemistry and that employers will be encouraged to recruit and advertise for chemists who are Professional Chemists.

PrChemSA truly demonstrates a commitment to maintaining competence, continuing your professional development and abiding by an acceptable code of conduct as befits the title of Professional Chemist.

If you have any questions about PrChemSA, you are most welcome to contact me.

Dr. Ian Bratt PrChemSA FSACI; ianbratt@global.co.za Executive Treasurer, SACI, Member of the PrChemSA committee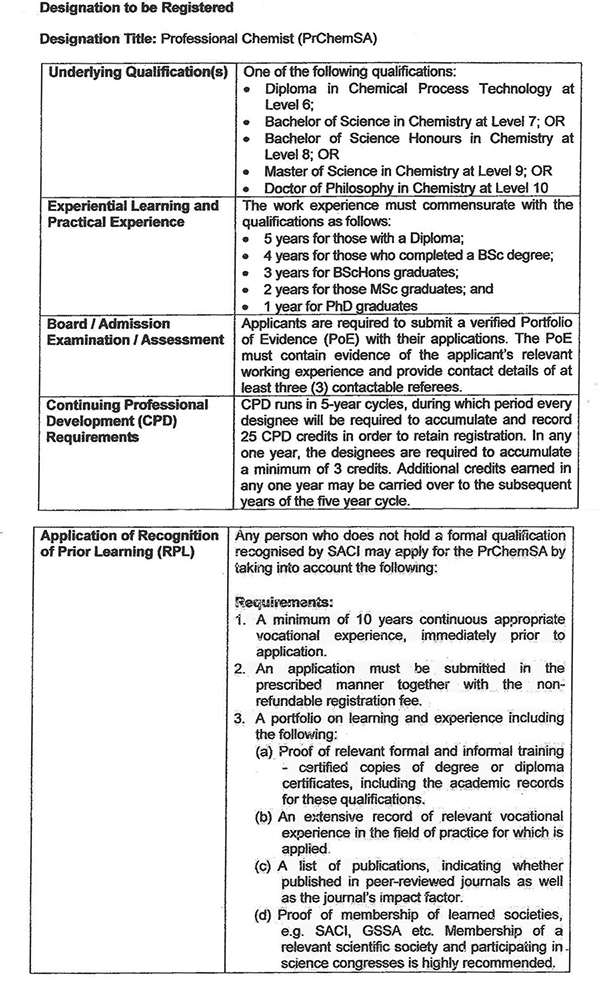 Below is a list of approved PrChemSA members - The list only display PrChemSA members that have paid their SACI membership and PrChemSA registration for 1 July 2017 - 30 June 2018.
Veale, Dr C
Chiririwa, Dr H
Mhuka, Dr V
Mutize, Mr I
Chamusi, Mrs P
Ogunlaja, Dr A
Muganza, Dr FM
Mutsimhu, Mr C
Patel, Ms LD
Okoh, Prof O
Mathebula, Ms L
Schoonraad, Mrs GL
Tshivhase, Dr MG
Mkhize, Dr Z
Berejena, Mr AM
Gule, Dr NP
Karonga, Mr N
Mokete, Ms LM
Chokwe, Dr T
Nocanda, Dr XW
Attwell, Mr C
van der Watt, Mr GJE
du Plessis, Dr HE
Odisitse, Dr S
Tinonetsana, Mr G
Zani, Mr Z
Ngcobo, Mr ES
Sealy-Fisher, Mrs V
van Eeden, Dr N
Finney, Mrs S
Zeevaart, Prof JR
Mkwizu, Dr TSP
Moleme, Mr GB
Kanchi, Dr S
Mazo, Mr D
Mafu, Mr LD
Tesfai, Mr FK
Buah-Kwofie, Mr A
Mabaleha, Mr MB
Wanyama, Mr PJ
Noreljaleel, DR AEM
Thwala, Dr LN
Sibeko, Dr MA
Mahlangu, Mr OT
Phiri, Dr MJ
Oyetade, Dr OA
Chiweshe, Dr T
Nayunigari, Dr MK
Viswanathan, Dr R
Andrijevic, Dr A
Odularu, Dr AT
Goddeti, Dr SMR
Abbavaram, Dr BR
Siegert, Dr RU
Ejidike, Dr IP
Lewtak, Dr JP
Bratt, Dr IM
Janse van Rensburg, Dr JM
Janse van Rensburg, Mrs L
Kirsten, Mr L
NRF Awards – Call for nominations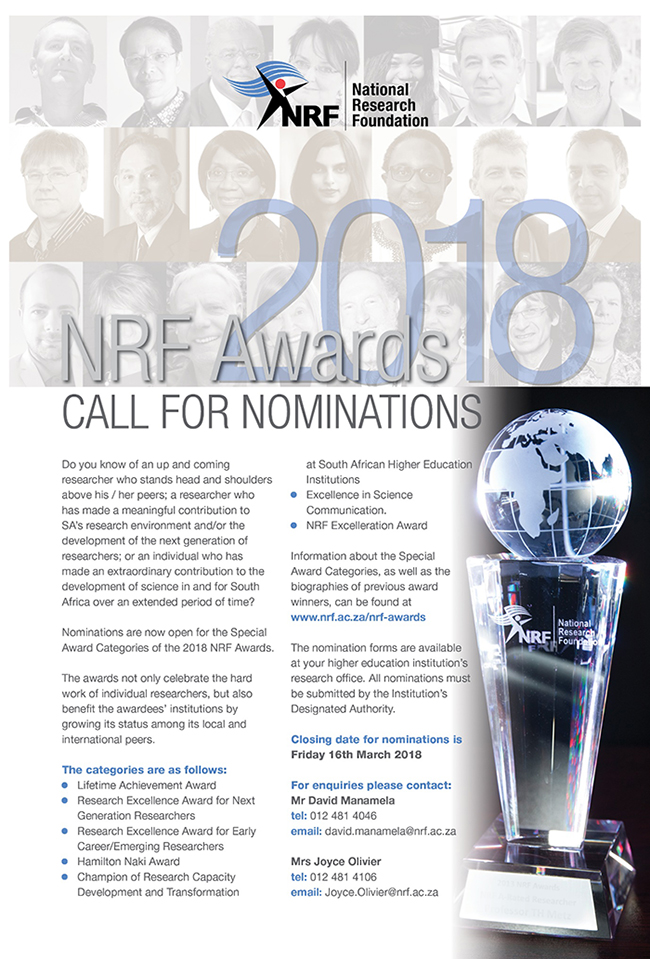 RSC news
1. The Pan Africa Chemistry Network exists to support African science; events, training, access to resources and a strong community; full details are here: www.rsc.org/pacn.

2. There are a few ways that you access Royal Society of Chemistry journals and books – our entire archive is available free of charge across Africa, and to all RSC members. Simply register online: http://www.rsc.org/membership-and-community/connect-with-others/geographically/pacn/research/

3. Our Funding Options are here:
http://www.rsc.org/membership-and-community/connect-with-others/geographically/pacn/funding-opportunities/

4. I welcome you to the community:
a. Join the LinkedIn Group: https://www.linkedin.com/groups/1900756

b. Sign up to our newsletter for updates and opportunities:

c. On twitter, please look up @hvdriver or #PanAfricaChem to find out more.

5. All our events in Africa are listed here: http://www.rsc.org/membership-and-community/connect-with-others/geographically/pacn/events/ including conferences and our programme of GCMS and LCMS training across the continent.

Dr Helen Driver (nee Bailey) MRSC
Senior Programme Manager, Africa
driverh@rsc.org
www.rsc.org/pacn
NSTF News

For the latest news see: http://www.nstf.org.za/news-category/nstf-news/

Of interest to members:
Matric results – certain misconceptions? (http://www.nstf.org.za/news/8716/)
Climate and other changes http://www.nstf.org.za/news/climate-and-other-changes-message-from-nstf-executive-director/)
What to do about poverty? (http://www.nstf.org.za/news/message-from-nstf-executive-director-what-to-do-about-poverty/)
Developing a strong network of economic infrastructure – transport, energy, water resources, and ICT (http://www.nstf.org.za/wp-content/uploads/2017/12/The-NDP-part6-FINAL.pdf)
IUPAC
For the latest news see: http://www.saci.co.za/iupac.html

IUPAC Interdivisional Committee on Green Chemistry for Sustainable
Development ICGCSD (https://iupac.org/body/041)

Post-graduate Summer School on Green Chemistry will be held from the 7th to 14th of July 2018 in Venice. This Summer School will ideally follow the 10 previous editions held in Venice from 1998 to 2008, but this will be the first one under the International Union of Pure and Applied Chemistry IUPAC sponsorship (https://iupac.org/).

Green Chemistry is one of the key sciences of a sustainable development on earth and required for reaching the 17 UN-Goals: IUPAC and ICGCSD are fully aware of their responsibility in working in the direction of Sustainable Development through Green Chemistry.

The School will be hosted in the magnificent Palazzo Ducale, the Doge's Palace, in St. Mark's Square, and about 60 post-graduate students and 20 teachers coming from all over the world are expected to attend. Scholarships will be offered to young talented chemists especially from developing countries.

The choice of Venice, this extraordinary but delicate architectural masterpiece between land and sea, as Host city for the Summer School has offered the opportunity to highlight the emerging connection of Green Chemistry with cultural heritage restoration and conservation field.

Main topics will be:
· Chemistry beyond chlorine
· New reaction pathways
· Exploitation of renewable resources
· For the first time: Green Chemistry for cultural heritage restoration
Applications are now open! You can find more information about the School at the following website link: http://www.unive.it/greenss2018

Elena Griguol
The Organizing Committee
IUPAC Postgraduate Summer School on Green Chemistry
E-mail: green.chemistry@unive.it
Web: www.unive.it/greenss2018
South African Journal of Chemistry
SAJChem is 100 years old this year. All manuscripts since 1918 are electronically available online at http://journals.co.za/content/journal/chem/browse?page=previous-issues
There will be one special (additional) issue this year on "South African Marine Natural Products" under the leadership of Dr Denzil Beukus. This will be announced on the journal website in due course.
Details of the journal and the editors can be seen at http://www.journals.co.za/sajchem/.

This Journal is published electronically. The webpage is: http://www.saci.co.za/. The South African Journal of Chemistry, published by the South African Chemical Institute, has been publishing high quality papers, in all fields of Chemistry for 100 years. The Journal went fully electronic in 2000 and is freely available through open access online (http://reference.sabinet.co.za/sa_epublication/chem). It is a CAS-abstracted publication and is listed in Current Web Contents. It is also part of the Scielo group. It has retained its status as an accredited publication with the South African Department of Higher Education and Training.

We encourage South African chemists to publish in the journal especially in this centenary year!
African Journals of Chemistry
African Corrosion Journal (online). Commenced in 2015 – a peer reviewed corrosion journal. This journal may be of interest to the "practical" chemists amongst the SACI membership. https://view.publitas.com/icp-1/african-corrosion-journal

African Journal of Chemical Education
Enquiries and manuscripts should be addressed to the Editor-in-Chief: email eic@faschem.org, PO Box 2305, Addis Ababa, Ethiopia. AJCE, 2016, 6(1) ISSN 2227-5835 The online version appears in the FASC website (www.faschem.org) and in the AJOL website (www.ajol.info)
CAIA Newsletter
The latest issue of CAIA news is available. Go to: http://www.caia.co.za/news/chemnews/
or e-mail: caia@iafrica.com for pdf files of news and information.
SACI and SACI related Conference events
SANi 7th International Conference on Nanoscience and Nanotechnology in Africa

Analitika 2018, Legend Golf and Safari Resort - Mookgophong, Limpopo 22 – 26 July 2018 Submissions can be done online - please follow the links from www.analitika2018.co.za