Notices and Announcements
CALL FOR APPLICATIONS 2018 L'OREAL-UNESCO FOR WOMEN IN SCIENCE
SUB-SAHARAN AFRICA REGIONAL PROGRAMME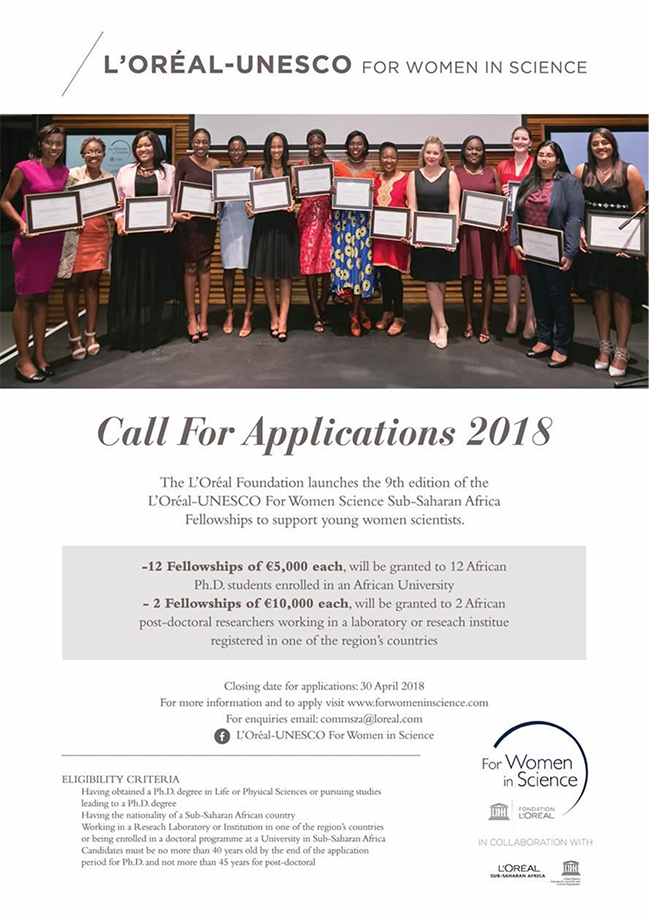 The L'Oréal Foundation launches the 9th edition of the L'Oréal-UNESCO For Women in Science Sub-Saharan Africa Fellowships to support young women scientists.
ELIGIBILITY CRITERIA
· Having obtained a PhD degree in Life or Physical science or pursuing studies leading to PhD degree
· Having the nationality of a Sub-Saharan African country
· Working in a Research Laboratory or Institution in one of the region's counties or being enrolled in a Doctoral progamme at a University in Sub-Saharan Africa
· Candidates must be no more than 40 years old by the end of the application period for PhD and not more than 45 years for post-doctoral.
Closing date for applications: 30 April 2018
For more information on and to apply, visit www.forwomeninscience.com.
For enquiries email: commsza@loreal.com.