SACI's mission is to promote the development and image of Chemistry in South Africa, to advise on chemical education and other Chemistry related legislative matters and issues of public and environmental concern, to play a leading role in assuring the professional competence and integrity of chemists and to foster international collaboration as part of an African chemistry community
Quick Links
INORG2015


28 - 2 July 2015 Grahamstown

Latest Updates:
Download Latest SACI Newsletter
MoU: SACI (Organic Division and the European Federation of Medicinal Chemistry (EFMC)
A MoU has been established with the Organic Chemistry Division of SACI and the EFMC. This arose from detailed discussions between Prof Kelly Chibale at the EFMC Symposium held in Lisbon, Portugal last year. It was agreed that the idea of a partnership between a Division of SACI and the EFMC was an excellent one especially given the relationship between SACI and chemical societies such as the American Chemical Society (ACS) and the Royal Society of Chemistry (RSC). The contact person who initiated the concept form EFMC was Prof. Koen Augustyns (EFMC President). EFMC is expanding its network on all continents, and wished to interact with the South African Chemical Institute. "The emphasis is on initiating the SACI - EFMC relationship with having Scientific Advisory Committee members on both sides, to ensure the best possible exchange of information and the proposal of scientific topics, chairs and speakers on a reciprocal basis. This MoU could be revised annually, to reflect the needs of the evolving SACI - EFMC relationship."
Council agreed to the MoU and Prof Simon Lotz (SACI President) has now signed the MOU for SACI.
Forthcoming SACI Conferences:
SACI Ties and Scarfs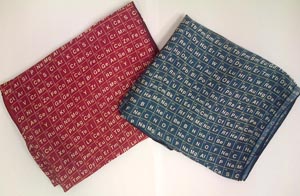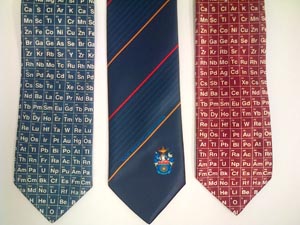 Periodic table ties and ladies scarfs R100 each. Please contact the head office to place orders.
There is also a courier charge of R100 per order for delivery.