SACI News October 2017


There has been much activity in the Sections and Divisions these past few months – so read all about the activities in the news below. Also – the Nobel Prize in Chemistry for 2107 has been awarded and an article on the prizewinning work is included. Peter Loyson has written three books on some aspects of the history of Chemistry in South Africa and these books are now available.
Neil Coville
Content
SACI office address and times

Advertising in the SACI newsletter

SACI Raikes Medal 2017: Prof Daniella Bezuidenhout

New books on Chemistry in South Africa by Peter Loyson

i) The first Chemistry Department in Port Elizabeth

ii) James Moir (1874-1929). Chemist in South Africa
iii) Early Pharmacy Teaching in Port Elizabeth

Section and Divisions News

North Section – report on the SACI Young Chemist Symposium

Eastern Cape  - Annual Eastern Province  SACI Post-Graduate Chemistry Seminar

Western Cape

New chairperson of the Western Cape:  Prof Nikoletta B. Báthori (CPUT)

Sponsored lecture: The Elements of Life and Medicines – by Prof. Peter Sadler

Environmental Chemistry Division - EPP 2017 Symposium and workshop

Nobel Prize in Chemistry (2017)

RSC

PACN Network

PACN Annual conference

IUPAC

Post-graduate Summer School on Green Chemistry

South African Journal of Chemistry

African Journals of Chemistry

CAIA Newsletter

SACI and SACI related conference events

ChromSA AGM and annual end of year function

ChromSA 2018 Post graduate Colloquium

SANi 7th International Conference on Nanoscience and Nanotechnology in Africa

Young Chemists Symposium (Central Section)

Atlantic Basin Conference on Chemistry

Analitika 2018

Other conferences

Syngas 3 convention

AMRS2017 (Africa Materials Research Society)

7th Mintek Analytical Sciences Symposium

Equipment

Anton Paar's new Cora Raman spectrometers
SACI office address and times
The SACI office, run by Laila Smith is located on the 1st Floor of Gate House, room 124. The telephone number is 011 717 6705 and e-mail address is: saci.chem@wits.ac.za. The cell number is 061 282 3477.

Office hours are from 8.30 am till 1.00 pm. She can be contacted at any time during her office hours.
Advertising in the SACI newsletter
The newsletter provides a means of getting messages to our membership. Currently the SACI membership stands at over 1000. This newsletter thus provides a means of advertising employment opportunities, conferences and workshops, and even for companies/Universities to promote themselves. We encourage members to use the Newsletter for advertising purposes. All SACI related conferences and events are advertised for free; if not a SACI related event there could be a small charge. For advertising costs contact Laila at the SACI office.          
SACI Raikes Medal 2017: Prof Daniela Bezuidenhout
THE RAIKES MEDAL. The award shall be made to a person, under the age of 40 on 31 March in the year of the award, whose original chemical research shows outstanding promise, as judged by the person's publications in reputable journals.  It is further stipulated that the research shall have been performed in South Africa.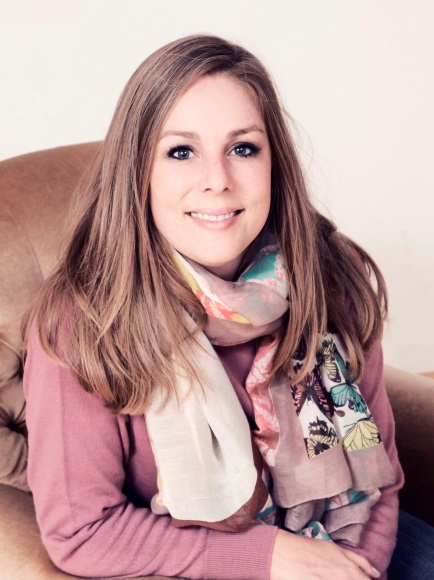 Daniela Bezuidenhout completed her doctoral studies at the University of Pretoria, followed by a lecturing position at the same institution until 2016 after a Fulbright post-doctoral fellowship at the University of California, San Diego USA 2011/12. Since her return to UP in 2012, she has established an independent research group, and was a runner-up finalist for the Nedbank SAWEF Water-Energy-Food Nexus Research Award 2013, and a Sasol Young Academic Achiever 2014/2015. She is also one of the inaugural fellows of the Tuks Young Research Leaders Programme (TYRLP 2015), and served as chairperson of SACI North section 2015/16. In 2016, she joined the University of the Witwatersrand as an associate professor in the School of Chemistry. Her research group concentrates on the synthesis of new carbenes and carbene metal complexes for application in catalysis, small molecule activation and optoelectronic applications. More recently, bioinorganic applications in the design of metallodrugs have also been included in the group's focus area. She has presented invited and keynote lectures at both national and international conferences, and serves as subject editor for the South African Journal of Chemistry. Her list of publications include three invited papers (two reviews), and two publications cited by the editors of the journal as 'Hot topic' articles. Notably, one of her most recent publications in the Journal of American Chemical Society was featured as a 'spotlight' article in the same journal in 2016.
New books on Chemistry in South Africa by Peter Loyson
Peter Loyson: About the author

Peter Loyson matriculated in Belgium in classical languages in 1965 and moved with his family to South Africa. In Port Elizabeth he was employed by General Motors, where he worked in the Chemistry Laboratories as a chemical technician. Whilst employed there for 7 years, he studied part-time at the PE College for Advanced Technical Education for the CTD Diploma (Chemical Technician's Diploma) after which he completed his BSc Degree through UNISA, majoring in Chemistry and Physics. 

Further qualifications followed at the then University of Port Elizabeth ending up with a Doctorate in Chemistry in 1980, whilst lecturing physical and analytical chemistry part-time at the PE Technikon in the Pharmacy and Applied Science Departments. He became Head of Chemistry in 1980, a position he held for 15 years, after which he was appointed Professor in Chemistry. After the merging of the PE Technikon with the University of Port Elizabeth (UPE) he became Professor of Analytical and Physical Chemistry at the newly established
Nelson Mandela Metropolitan University. He lectured electroanalytical chemistry, kinetics, thermodynamics and an introduction to chemical engineering. His main research focus was organic electrochemical synthesis and chemical education. He retired in 2011, when he was awarded the South African Chemical Institutes' prestigious Chemical Education Medal.

Peter Loyson has always been interested in history. In 2008 he was instrumental in founding the Ancient History Society of Port Elizabeth, a Society which has grown tremendously over the years. He has a strong interest in the history of chemistry and Science in general and has given talks on Chemistry in Ancient Egypt, Science and Technology in Ancient China, A tribute to the Ancient Greeks, Ancient Greek Mathematics, Ancient Roman Engineering, The Golden Age of Arabic Science, Ancient Timekeeping and others.
i)The first Chemistry department in Port Elizabeth
ISBN number : 978-1-920508-79-1
ii) James Moir (1874-1929). Chemist in South Africa
This book follows his investigations into the work of James Moir, Government Analyst, and a noted figure in the South African Chemistry community.  The James Moir book is a summary of 5 papers that have been published in the South African Journal of Chemistry exploring his research activities.
iii)Early Pharmacy Teaching in Port Elizabeth
Sections and Divisions news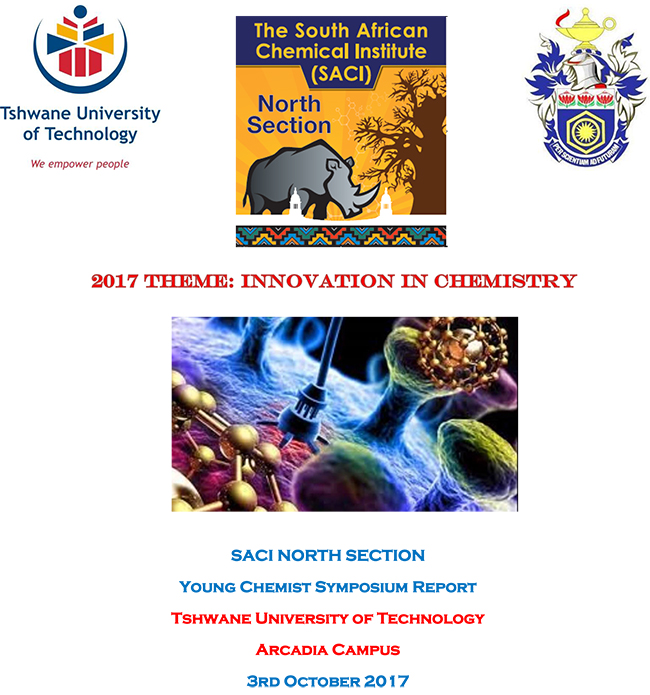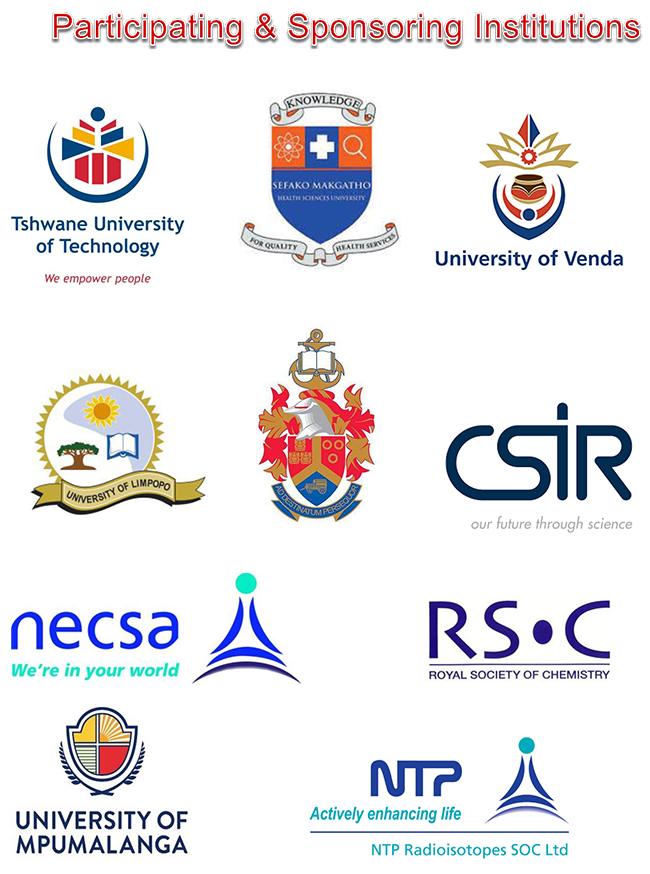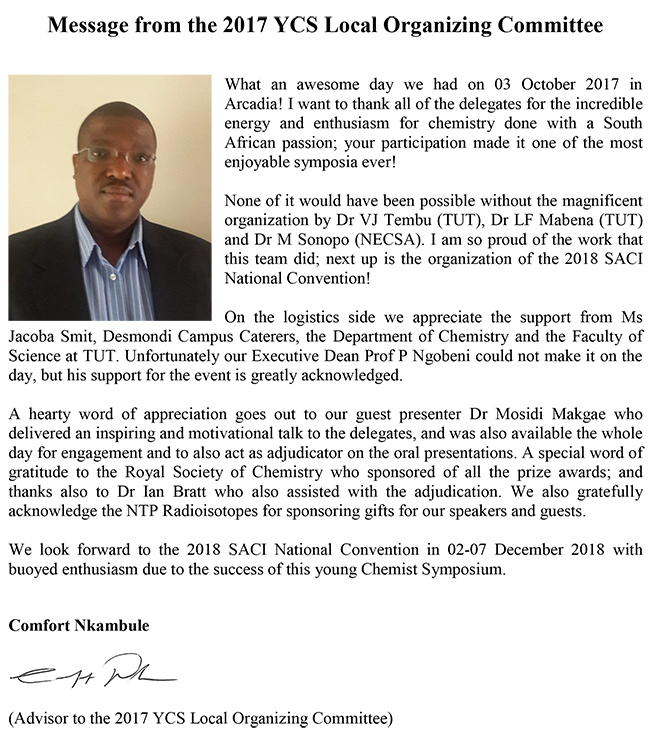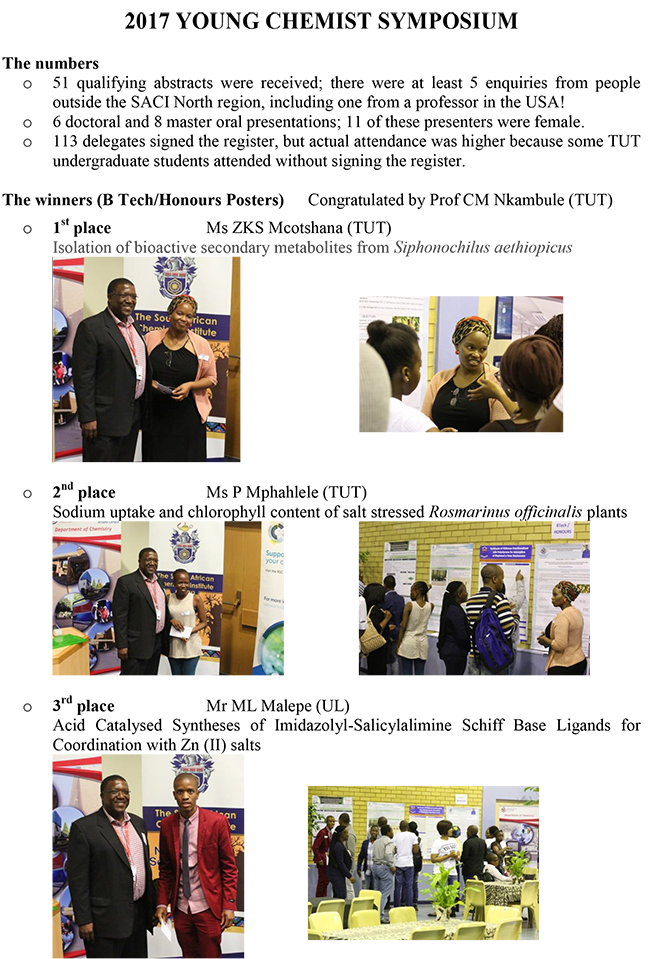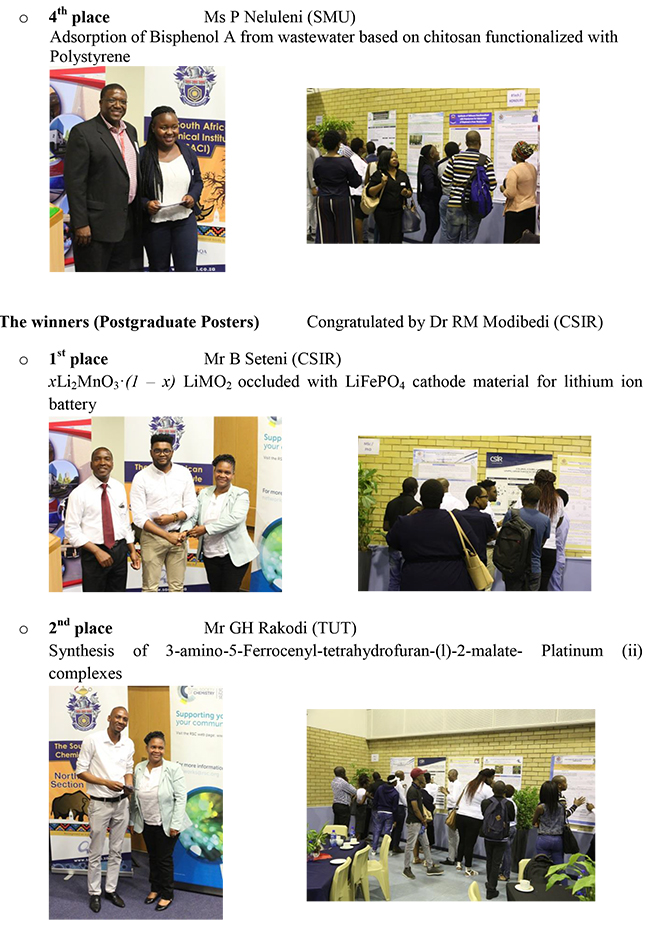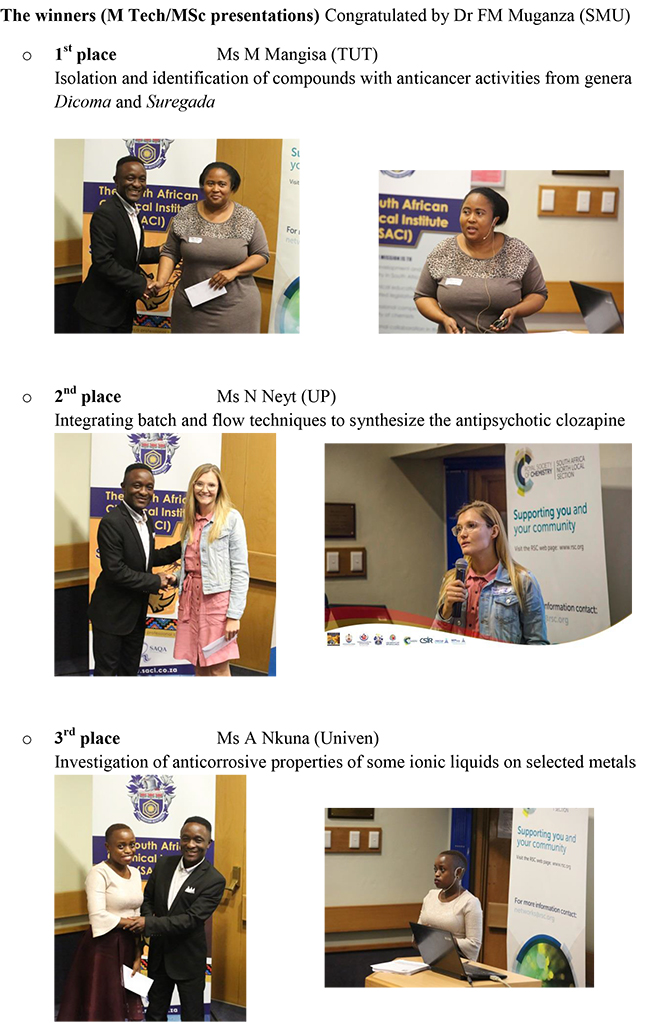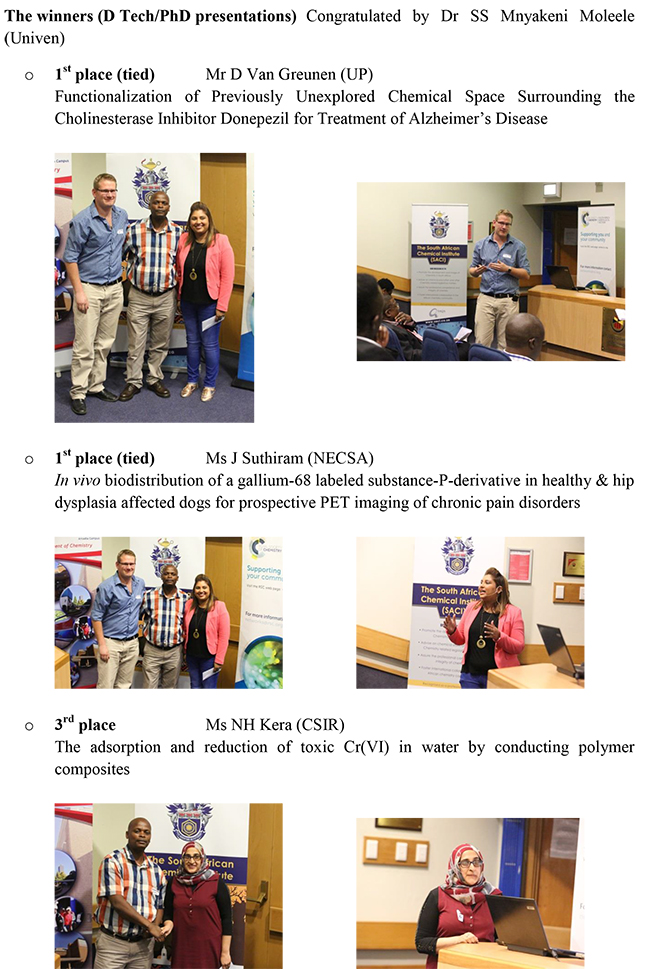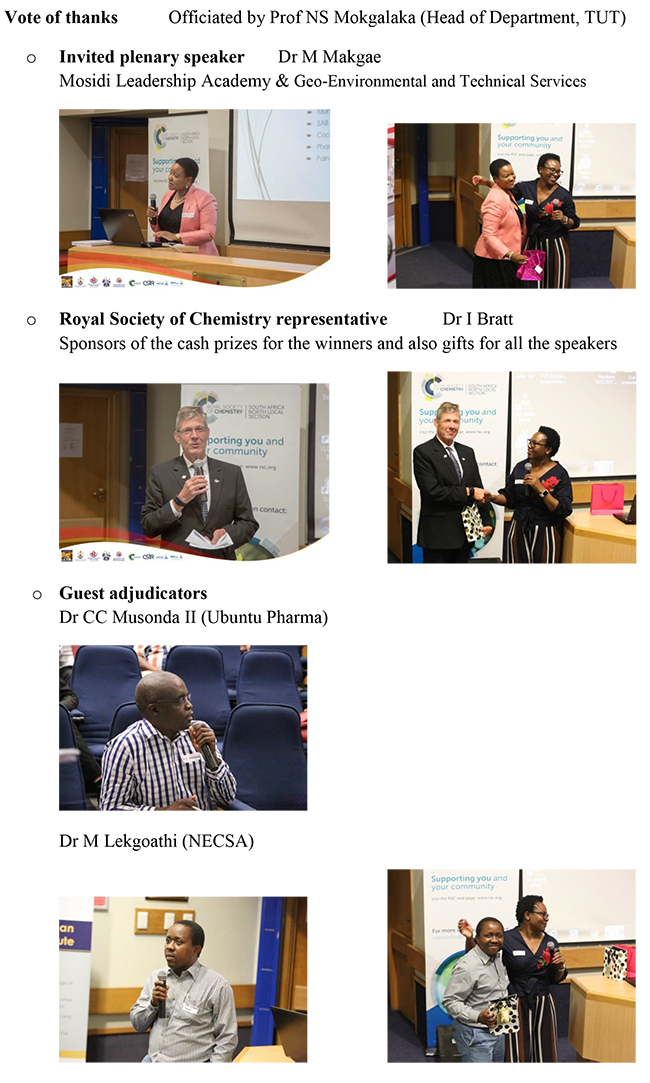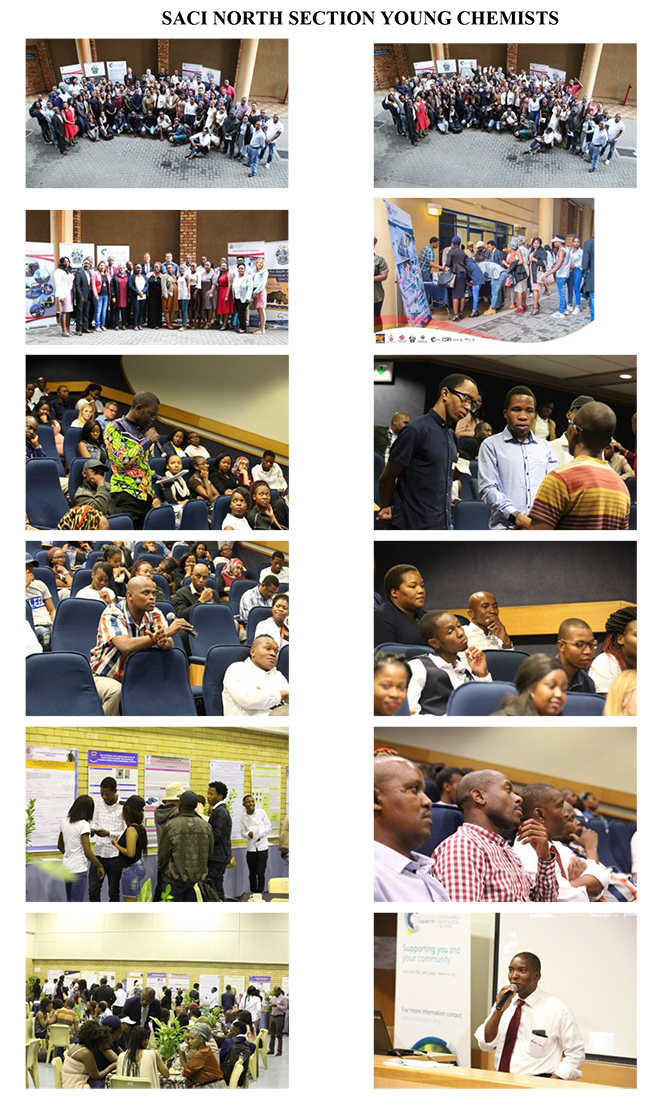 The ANNUAL EASTERN PROVINCE SACI POST-GRADUATE CHEMISTRY SEMINAR took place at Rhodes University on Friday October 20th 2017. The four Universities in the region were represented well by their speakers, presenting on a range of research from natural product derived plasticizers to theoretical studies. It was exciting to see such a high calibre of young scientists enjoying the opportunity provided by SACI. The afternoon of talks was followed by the awarding of the SACI Post graduate award to Christian Nkanga (Rhodes University) and the James Moir medals for the region. The participants and supporters then enjoyed a short cocktail party which provided opportunity for networking and catching up amongst academics and students before the prizegiving and the long drive to the respective cities for Walter Sisulu University (both Mthatha and East London campuses were represented), University of Fort Hare and Nelson Mandela University.

The prize winners were:
Junior section First prize: Cuan Kruger (Rhodes University); Second prize: Ms Lizé de Jager (NMU)
Senior section  First Prize: Sivuyisiwe Mapukata (Rhodes University); Second prize: Ms Kirstin Burger (NMU)
i) New chairperson of the Western Cape:  Prof Nikoletta B. Báthori (CPUT).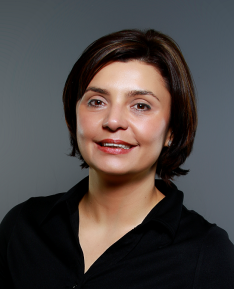 On the 18th October 2017 the 75th AGM of SACI (Western Cape Section) occurred at in the Department of Chemistry and Polymer science at Stellenbosch University (SU). The 2016-2017 chair of the section, Prof. Willem van Otterlo (SU), provided a short overview of the Section's recent activities and then handed over the reins of the Section to Prof. Nikoletta Bathori from The Cape Peninsula University of Technology (CPUT)."Since 2009 Niki, who has a PhD from the Budapest University of Technology and Economics, has been lecturing and performing research in solid state supramolecular chemistry at CPUT – in 2017 she was promoted to associate professor in the Department of Chemistry. The Section would like to welcome her and look forward to her guidance in taking the message of "chemistry" to the Western cape region.

Two new members were welcomed onto the organizing committee, namely Prof. Denzil Beukes (University of the Western Cape, UWC) and Dr Clive Oliver (University of Cape Town, UCT). The section would also like to thank Drs Margaret Blackie (SU, treasurer) and Robert Luckay (SU, secretary) for volunteering to continue in their valuable positions at the Section.

The AGM was then followed by an inspiring talk given by Prof. Mike Davies-Coleman (Dean of the Faculty of Science., UWC) on "Going to the ends of the earth in search of new chemistry" which included various tropical and glacial vistas and a plethora of bugs and beasties (including polar bears!).
Prof Willem van Otterlo, SU
ii) Sponsored lecture: The Elements of Life and Medicines – by Prof. Peter Sadler
At the Department of Chemistry and Polymer Sciences, Stellenbosch University, visitor Prof Peter J. Sadler from the University of Warwick, Coventry, UK took the audience on a fascinating walk through the periodic table and how almost every element influences our lives. We heard all about the 'essential' elements that we need to function which made us wish we listened to our Mum when she told us to eat all our vegetables and fruit! There were also some surprising 'Did you know?' facts…like 'Did you know that 333 bananas contain the same amount of K in our bodies? Or 'Did you know that gold was used to treat 'drunkenness' and other addictive habits in the 19th century?' Prof Sadler's lecture was not just entertaining but also highly informative and emphasised how little we know about the essentiality of different elements in our bodies – most of our knowledge comes from experiments on small mammals such as rats and rabbits in the 70's and 80's and not humans. He ended the lecture with a lightning round quiz with prizes for the winners. The Department is thanked for providing the venue and SACI WC is acknowledged for sponsoring the refreshments afterwards!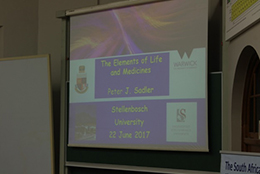 Pictures: Christoff C Albertyn              Content:  Dr Prinessa Chellan
ENVIRONMENTAL PERSISTENT POLLUTANTS SYMPOSIUM AND WORKSHOP 2-6 October 2017
Holiday Inn Express Conference Centre, Pretoria.  
The EPP 2017 Symposium and workshop was successfully held on 2-6 October, at the Holiday Inn Express Conference Centre, Pretoria. The symposium was for two days instead of the usual one day and this was followed by a three-day laboratory training on GC-MS, LC-MS-MS, ICP, AAS and sample preparation and clean up. Training on different analytical instruments was conducted by Shimadzu technical staff and TUT postdoctoral research fellow and postgraduate students. The themes of the symposium were:

EPP in environmental media and biological samples Indoor exposure to EPP, Analytical methods and techniques for EPP analysis, Emerging EPP, Mercury and other trace metals Biosensors for EPP detection

The EPP 2017 Symposium and Workshop was sponsored by Shimadzu SA, United Nations Industrial Development Organisation (UNIDO), and Faculty of Science, Tshwane University of Technology (TUT). 
Participants came from the following countries: EPP 2017 Symposium and workshop
South Africa (TUT, UKZN, SMU, ARC Pretoria and UJ);  Ethiopia (4);  Lesotho;  Sudan (2); *Tanzania (1) and Participants (seven in total) were sponsored by UNIDO

Special Guests speakers were:  Prof H Kasan (General Manager, Scientific Services, Rand Water) Prof P Ngobeni (Executive Dean, Faculty of Science, TUT), Mr Masakazo Sano, (Head of Shimadzu, Middle East and African Region)
Plenary lectures were given by:   Prof M Nindi (UNISA),  Prof M Taylor (Faculty of Health Sciences, UP), Dr M Mashimbye (Department of Science and Technology), Dr E Ncube (Manager Process Division, Rand Water). 
Session chairs were:  Prof R Jansen (TUT); Dr L Monyatsi (TUT); Dr AP Daso (TUT); Dr OA Abafe (ARC Pretoria) and  Dr C Zvinowanda (UJ)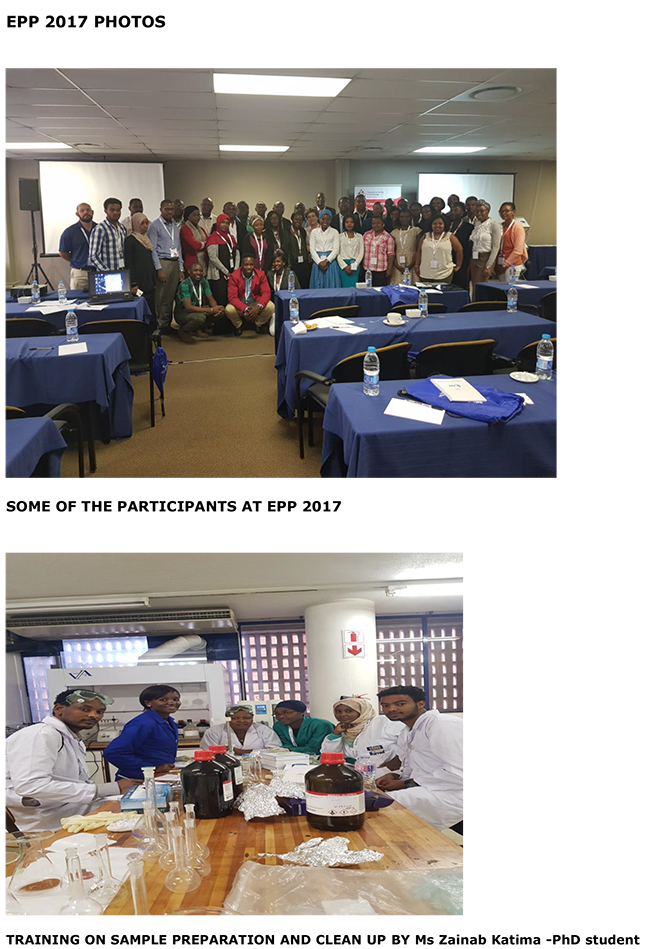 Prof OJ Okonkwo Chair SACI Environmental Chemistry Division
Nobel Prize in Chemistry (2017)
The scientists who developed the ability to see some of the building blocks of life under the electron microscope have been awarded the 2017 Nobel Prize in Chemistry.

Jacques Dubochet, Joachim Frank and Richard Henderson pioneered cryo-electron microscopy, which the Royal Swedish Academy of Sciences said both simplifies and improves the imaging of biological molecules, known as biomolecules.

The 9 million Swedish kronor (A$1.4 million) prize is split equally between Dubochet, at Switzerland's University of Lausanne, Frank, at New York's Columbia University, and Henderson, at the MRC Laboratory of Molecular Biology, Cambridge in the UK.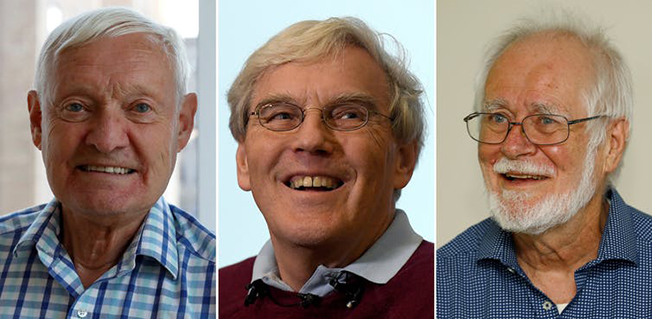 The 2017 winners of the Nobel Prize in Chemistry: (left to right) Joachim Frank, Richard Henderson and Jacques Dubochet. Reuters/Brendan McDermid, Toby Melville and Denis Balibouse

The Academy said the method developed by the three researchers had moved biochemistry into a new era. The technology now allows researchers to generate a high resolution view of biomolecules while they exist in their natural state.
http://theconversation.com/life-frozen-in-time-under-an-electron-microscope-gets-a-nobel-prize-85246
The biological lock and key
The human body is amazingly complex and requires the cooperation of a range of biochemical mechanisms, such as digestion and energy production, in order to function well. These intricate processes involve the use of biomolecules, typically large entities made from amino acids – the building blocks of life.

Importantly, just like the construction of any brick-built house, the configuration or placement of the blocks is critical to how well our construction stands up, or how well our biomolecules function.

Furthermore, biomolecules present their capacity to perform tasks by interacting with other entities, such enzymes, in the body. These are based on a specific configuration, much like how only one key can open a particular lock.

The significant challenge overcome by the award-winning team was to develop the capacity to observe the biomolecules in their natural state. Before the advent of cryo-electron microscopy, they were visualised with
X-Ray crystallography.

It was also thought that electron microscopes were only suitable for imaging dead matter, because the powerful electron beam destroys biological material.

The key breakthrough came with the development of a process to rapidly freeze a sample. This enabled the biomolecules to be captured in their bespoke configuration.

The team identified early on in their work that freezing a sample prior to visualisation may afford the improvement required to fully interrogate the biomolecules.

Frozen in time
Here is where the fun starts. While sounding inherently simple, rapidly freezing a sample is particularly challenging.

If the process removes the water from the sample then the biomolecule collapses, losing the natural configuration desired by the researchers. If the sample is frozen too slowly then ice crystals form, which also interferes with the biomolecule's configuration.

The team developed a process known as vitrification. This freezes the sample at -190℃ while it is placed on a wire mesh, an elegantly simple approach to solving a difficult problem.

Like most Nobel prizewinning scientific achievements, the development was incremental. Changes by the team over many years enabled the combination of the freezing process (developed in 1978) and the microscopy technology which was only fully realised in 2013.

This combination and advancement in technology enabled the high-resolution imaging of biomolecules.

Unlocking a virus
So what does all this mean? Well, understanding the configuration of the lock enables scientists to cut a particular key.

Viruses are large biomolecules. Once visualised, scientists can identify molecules or develop pharmaceutical keys that can fit into their structure in order to break them apart or disrupt their function.
Over the past few years, researchers have published atomic structures of numerous complicated protein complexes: (left, a) a protein complex that governs the circadian rhythm, (centre, b) a sensor of the type that reads pressure changes in the ear and allows us to hear, and (right, c) the Zika virus.
The Royal Swedish Academy of Sciences

An example of the power of cryo-electron microscopy is seen through the rapid characterisation of the
Zika virus soon after it was first identified as a major global health risk.
The identification of the configuration of the virus and the pocket of the biomolecule that joins to its host will form the basis for ongoing studies on how best to combat this virus.
RSC news
i)Pan Africa Chemistry Network
I have been made aware of a great opportunity for the Pan Africa Chemistry Network community and I have been asked to share this with you. Please consider applying to attend this meeting, this will be a great opportunity to find out more about the UK's Global Challenges Research Fund and how it can support you.

The Global Challenges Research Fund (GCRF) is a scheme from the UK government to fund collaborative research across the world. They are running a series of international Global Engagement Meetings. The aim of these events is to showcase the opportunities available through the GCRF; to bring together developing country and UK researchers and representatives from other organisations to forge networks; and to discuss opportunities for maximising the contribution of GCRF research into policy and practice.

Applications for a global engagement event in Nairobi, Kenya has just opened. The event will run from Wednesday, 31st January 2018 to Friday, 2nd February 2018 and is being led by Research Councils UK in partnership with The UK Department for International Development, the African Academy of Sciences and The British Institute in East Africa.

The event has been designed to contain a mixture of plenary sessions, workshops and networking opportunities and will be interdisciplinary and interactive. Attendees will be drawn from different countries, different disciplines, and from a mix of academic and non-academic organisations (e.g. non-governmental organisations; charities; policy makers; international funders).

Attendance at the event will be through a competitive application process, the deadline for applications is Thursday 2nd November. Details and the application form can be found at the following link: www.rcuk.ac.uk/funding/gcrf/gcrf-global-engagement-events/

Please share across your networks in Africa, and globally. We must ensure that the chemical science community is well represented at this meeting, so we can benefit from the opportunities.
Please join our newsletter to stay up to date with our activities in Africa: rsc.li/africanews

Dr Helen Driver (nee Bailey) MRSC
Senior Programme Manager, Africa
driverh@rsc.org
www.rsc.org/pacn
1. The Pan Africa Chemistry Network exists to support African science; events, training, access to resources and a strong community; full details are here: www.rsc.org/pacn.

2. There are a few ways that you access Royal Society of Chemistry journals and books – our entire archive is available free of charge across Africa, and to all RSC members. Simply register online: http://www.rsc.org/membership-and-community/connect-with-others/geographically/pacn/research/

3. Our Funding Options are here:
http://www.rsc.org/membership-and-community/connect-with-others/geographically/pacn/funding-opportunities/

4. I welcome you to the community:
a. Join the LinkedIn Group: https://www.linkedin.com/groups/1900756

b. Sign up to our newsletter for updates and opportunities:

c. On twitter, please look up @hvdriver or #PanAfricaChem to find out more.

5. All our events in Africa are listed here: http://www.rsc.org/membership-and-community/connect-with-others/geographically/pacn/events/ including conferences and our programme of GCMS and LCMS training across the continent.

6. We are holding our annual Congress in Ghana in November discussing sustainable agriculture, and we would welcome you to the event. Registration will open next Thursday rsc.li/pacn2017
ii) PACN Annual conference
The annual Congress, is being held in Accra Ghana, in partnership with Syngenta, the University of Ghana and KNUST. The event will be held from 7-9th November.
http://www.rsc.org/events/detail/28432/pan-africa-chemistry-network-congress-2017-sustainable-agriculture-how-the-chemical-sciences-can-contribute-to-food-security-for-a-growing-population
We are currently accepting abstract submissions through our website, and we have over 100 contributions from across Africa so far, the deadline is the 24th September. We will be opening for registration in October and we expect it to fill up fast.

Dr Helen Driver (nee Bailey) MRSC
Senior Programme Manager, Africa
IUPAC
For the latest news see: http://www.saci.co.za/iupac.html
IUPAC Interdivisional Committee on Green Chemistry for Sustainable
DevelopmentICGCSD(https://iupac.org/body/041)

Post-graduate Summer School on Green Chemistry will be held from the 7th to 14th of July 2018 in Venice. This Summer School will ideally follow the 10 previous editions held in Venice from 1998 to 2008, but this will be the first one under the International Union of Pure and Applied Chemistry IUPAC sponsorship (https://iupac.org/).

Green Chemistry is one of the key sciences of a sustainable development on earth and required for reaching the 17 UN-Goals: IUPAC and ICGCSD are fully aware of their responsibility in working in the direction of Sustainable Development through Green Chemistry.

The School will be hosted in the magnificent Palazzo Ducale, the Doge's Palace, in St. Mark's Square, and about 60 post-graduate students and 20 teachers coming from all over the world are expected to attend. Scholarships will be offered to young talented chemists especially from developing countries.

The choice of Venice, this extraordinary but delicate architectural masterpiece between land and sea, as Host city for the Summer School has offered the opportunity to highlight the emerging connection of Green Chemistry with cultural heritage restoration and conservation field.

Main topics will be:
· Chemistry beyond chlorine
· New reaction pathways
· Exploitation of renewable resources
· For the first time: Green Chemistry for cultural heritage restoration
Applications are now open! You can find more information about the School at the following website link: http://www.unive.it/greenss2018

Elena Griguol
The Organizing Committee
IUPAC Postgraduate Summer School on Green Chemistry
E-mail: green.chemistry@unive.it
Web: www.unive.it/greenss2018
South African Journal of Chemistry
SAJChem is 100 years old next year. All manuscripts since 1918 are electronically available online at http://journals.co.za/content/journal/chem/browse?page=previous-issues
There will be one special (additional) issue next year on "South African Marine Natural Products" under leadership of Dr Denzil Beukus. This will be announced on the journal website in due course.
SAJChem has a new assistant editor (Mr Siya Maphumulo) who will do the prescreening for Comp Chem and Educational papers. The other editors can be seen at https://www.sabinet.co.za/sajchem/
Dr Tricia Naicker will take over as Editor-in-chief from Prof. Gert Kruger (who served in this position since May 2014) at the end of October. As far as we can determine, she will be the first female Editor-in-chief in 100 years!
Details of the journal and the editors can be seen at http://www.journals.co.za/sajchem/.
This Journal is published electronically. The webpage is: http://www.saci.co.za/ The South African Journal of Chemistry, published by the South African Chemical Institute, has been publishing high quality papers, in all fields of Chemistry for over 50 years. The Journal went fully electronic in 2000 and is freely available through open access online (http://reference.sabinet.co.za/sa_epublication/chem). It is a CAS-abstracted publication and is listed in Current Web Contents. It has retained its status as an accredited publication with the South African Department of Higher Education and Training.
African Journals of Chemistry
African Journal of Chemical Education
Enquiries and manuscripts should be addressed to the Editor-in-Chief: email eic@faschem.org, PO Box 2305, Addis Ababa, Ethiopia. AJCE, 2016, 6(1) ISSN 2227-5835 The online version appears in the FASC website (www.faschem.org) and in the AJOL website (www.ajol.info)
African Journal of Chemical Education
Enquiries and manuscripts should be addressed to the Editor-in-Chief: email eic@faschem.org, PO Box 2305, Addis Ababa, Ethiopia. AJCE, 2016, 6(1) ISSN 2227-5835 The online version appears in the FASC website (www.faschem.org) and in the AJOL website (www.ajol.info)
CAIA Newsletter
The latest issue of CAIA news is available. Go to: http://www.caia.co.za/news/chemnews/
or e-mail: caia@iafrica.com for pdf files of news and information.
SACI and SACI related Conference events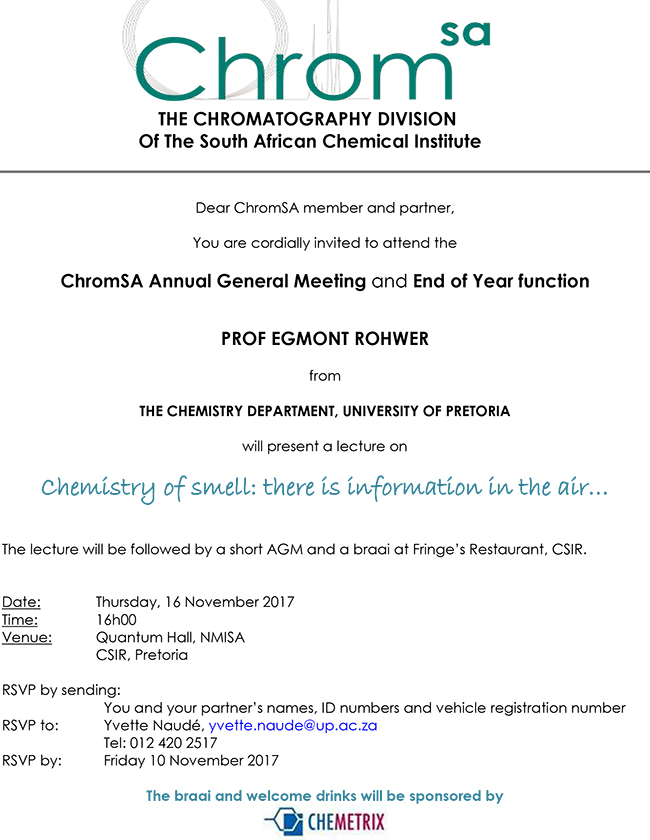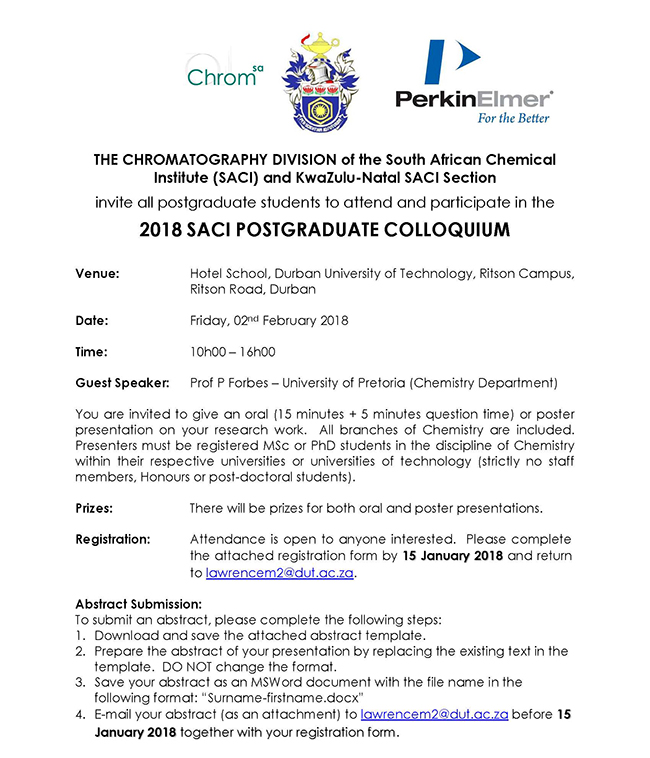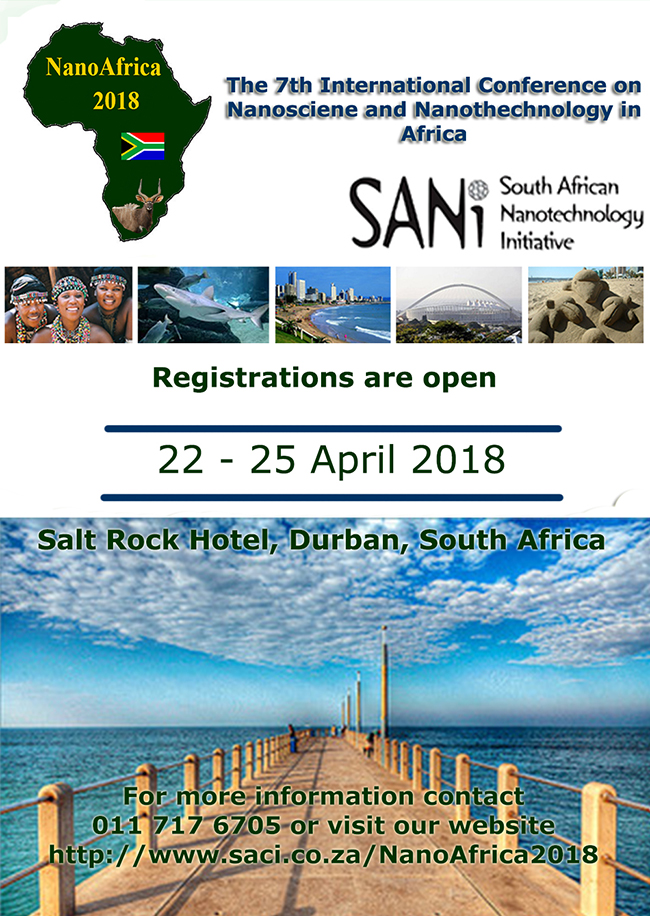 ABCChem – Plenary Speakers Announced!
ACS is partnering with societies in North and South America, Europe, and Africa for the first Atlantic Basin Conference on Chemistry (ABCChem) to be held in January 23–26, 2018, in sunny Cancún, Mexico. A dynamic lineup of plenary speakers from across the region have been confirmed and will cover a range of topics including Chemistry in Biology, Green Chemistry, Materials & Nano Chemistry, and Physical & Analytical Chemistry.
Call For Papers – Submit Yours Today
The ABCChem Technical Programming Committee invites chemistry professionals across the regions to give oral and poster presentations on the topics listed above. The deadline to submit abstracts is Monday, September 18, 2017.
Submit your papers and register now! To ensure international collaboration, registration is limited by region. Make sure to register early to secure your spot!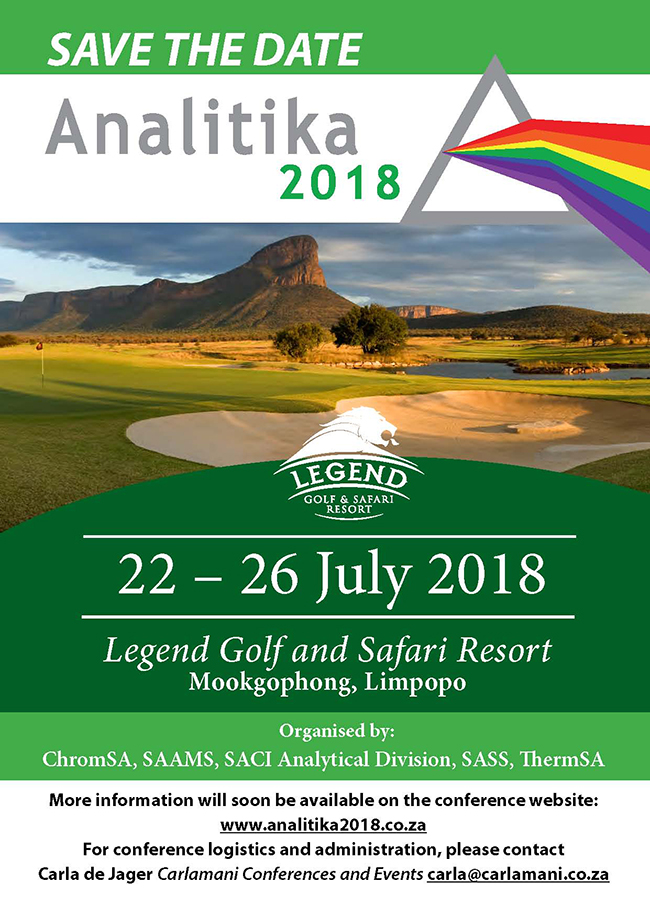 Others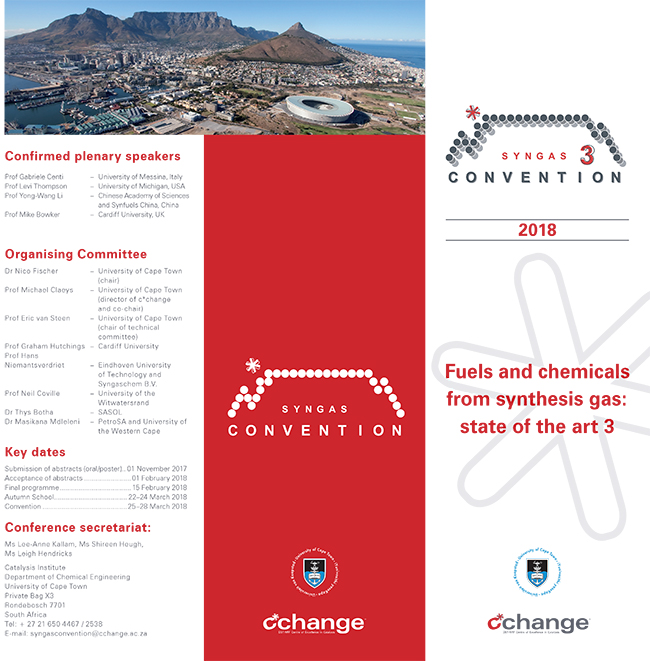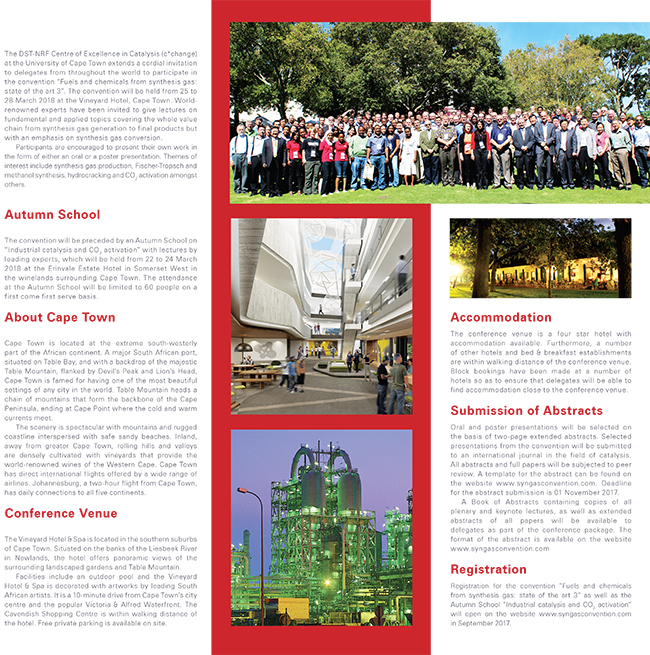 THE SOUTH AFRICAN RAMAN WORKSHOP, STIAS, Stellenbosch, 27-28 November 2017, saramanworkshop2017@gmail.com

ICMES-2018, the Second International Conference on Materials and Environmental Science which will be held at Saidia, Morocco, the Blue Pearle of Mediterranean Sea 26-28 April, 2018. For more information : www.jmaterenvironsci.com/icmes2018/ icmes2018saidia@gmail.com

First Atlantic Basin Conference on Chemistry (ABCChem) – 24-26 January, 2018; Cancún, Mexico http://abcchem.org/about/societies/

ACRICE-3 Algeria October. The website is www.univ-setif.dz/OCS/FT/ACRICE. The conference is under the aegis of IUPAC and FASC

Science Forum South Africa 7-8 Dec 2017, CSIR International Convention Centre, Pretoria

African Materials Research Society (AMRS) Conference 2017, 11-14 Dec 2017, Gaborone, Botswana. www.amrsbotswana.org

7th SANi-NYRS symposium
The South African Nanotechnology Initiative (SANi) together with Tshwane University of Technology (TUT) are excited to announce the coming 7th SANi-NYRS symposium hosted at Tshwane University of Technology (TUT) in Pretoria west, TUT main campus, on the 20th of October 2017 under the theme "Nanotechnology For The 21st Century Challenges".
Tshwane University of Technology
Tel: 0123826406;  0769932734
Email: MakgopaK@tut.ac.za
Equipment
Anton Paar's new Cora Raman spectrometers