Obituaries
HANS HELMUT HAHN 25 FEBRUARY 1931 – 28 JUNE 2020
In Memoriam of an Extraordinary Life

Dr Hans Helmut Hahn, or just Hans as he was to all of us at Hahn & Hahn, his friends and his clients was born in Germany in 1931 during the turbulent times of a depression, His father, WA Hahn, was born and educated in the United Kingdom and after World War I relocated to Germany where he became a Patent Agent and was transferred to the Hague in the Netherlands when Hans was 3 months old and grew up as a young child until the outbreak of World War II.

In 1948 the Hahn family left for South Africa to start a new future. Hans was 17 years old and for the first two years the family eked out a frugal existence and Hans helped out his father who was qualifying as a Patent Agent in South Africa wherever he could, doing patent drawings and searches at the patent office, and taking on translations and odd jobs to finance his studies. Hans then worked for the CSIR and completed his M.Sc where after he spent 1954 to mid 1957 overseas doing his doctorate in Karlsruhe, Germany.

In that time the firm of WA Hahn Patent Agent had grown and with his father's health deteriorating Hans returned to South Africa and in 1960 passed his Patent Agents Examination and was registered early in 1961. The name of the firm was changed to Dr.W.A.Hahn and Dr.H.H.Hahn, later abbreviated to Hahn & Hahn where he was a partner until 2007 and an active consultant until his death. Hans was a doyenne of the Intellectual Property profession in South Africa and until recent years was a fixture on many committees and attended IP conferences in South Africa and around the world and was well known amongst his peers.

In addition to having a doctorate in Chemical Engineering and being a Patent Agent Hans was a polyglot and a sworn translator between English, Dutch, German, French and Afrikaans.

On a personal level, Hans was an avid art collector and the walls of Hahn & Hahn are adorned with art works acquired by Hans over the decades and will remain a reminder of him.

Hans also appreciated the great outdoors and founded the Morning Sun Nature Reserve and Mashovhela Lodge which he frequently visited and invested in the local community.

Hans was much loved by all at the firm and will be missed by all. Rest in Peace Hans Helmut Hahn.
Dr Jaap Bruijn

The South African sugar industry recently learnt of the passing of Dr Jaap Bruijn in France on 29 June.  Dr Bruijn was well known to the industry in the 1960s, 1970s and 1980s, being an active researcher at the Sugar Milling Research Institute (SMRI) and later Director, and familiar to sugar technologists through his contributions in multiple areas of sugar technology.

Jaap Bruijn started at the SMRI on 12 December 1957 as a microbiologist (although a chemical engineer by training) under the first SMRI Director, Dr Kees Douwes Dekker, and subsequently worked under directors Dr Milo Matic and then Dr Bernard Ravnö, under who he served as Deputy Director. After Dr Ravnö resigned to move to the industry, Dr Bruijn was appointed as Director on 1 November 1986, a position that he held until his retirement on 31 December 1987, when he was succeeded by Dr Brian Purchase. During his time at the SMRI, he was awarded a PhD for his study "Changes in the chemical composition of sugar cane (Saccharum officinarum) during storage", involving the characterisation of gums and polysaccharides in sugarcane, still an active research topic at the SMRI.

While at the SMRI, Jaap applied his active mind to a wide range of topics covering all aspects of the sugar industry and was the proverbial master of most trades. As well as being a good engineer, he had an excellent knowledge of science and was very practically minded, being able to manufacture all kinds of equipment and devices, as is evident from some of his achievements listed below. At the SMRI there was a saying: "When in doubt ask Jaap". It was a tribute to a person who was always willing to humbly share his vast knowledge.

His research projects and consulting work to the factories over the years ranged very widely. A quick search of the 56 technical reports he wrote while at the SMRI illustrated how broad his interests were in the field of sugar manufacture, including the composition of the cane plant, cane deterioration and the discovery of sarkaran in cane, bagasse storage, starch hydrolysis, chemical analysis techniques, molasses exhaustion, refinery operations, the caking behaviour of refined sugar and effluent treatment.

He was intimately involved with the pioneering work at the Union Co-op mill leading to the development of the diffusion process in the South African industry. He and a team from the SMRI ran some sugarcane through the Union Co-op wattle extraction plant to see if they could make sugar. Based on the success of this project, Union Co-op proceeded to erect a sugar mill alongside their wattle processing plant to start making sugar.

Jaap is also remembered for manufacturing gas chromatography (GC) columns in the SMRI workshop at a time when GC for sugar analysis was in its infancy. The cost of purchasing proprietary columns from the chemical instrument companies was very high, so Jaap designed a small electrically heated furnace through which he could slowly draw a length of glass tubing (using a small geared motor) so that it would be softened as it passed through the furnace and was then drawn to a fine capillary and wound onto a cylindrical former to cool. In this way he could pack many metres of capillary column into a fairly small package. He and the resident GC fundi (Kevin Schäffler) worked out how to pack the columns with the necessary components to enable GC analysis of sugars in the 70s and 80s. This ultimately led to the South African industry moving from a pol-based to a sucrose-based cane payment system in the 1981 season.


Portion of SMRI staff photo from February 1985, showing, from left to right, Kevin Schäffler, Dr Jaap Bruijn, Dr Bernard Ravnö, Neville Allan and Dr Brian Purchase

In about 1981 he took Dr Purchase on a consulting visit to the effluent plant at Umfolozi, and then asked if he would take over his role in the area of research and consulting on factory effluents, such as the use of trickling filters for sugar effluents. His initiation and encouragement enabled Dr Purchase to fill that role for almost 40 years (he still lectures on the subject for SMRI courses).

Dr Bruijn authored or co-authored ten papers at the annual congress of the South African Sugar Technologists' Association (SASTA) and was awarded the SASTA Talbot Crosbie factory prize (for the best paper in the Factory Section of Congress) in 1968 for his work on Enzymatic Hydrolysis of Starch, which was co-authored by RP Jennings of Tongaat Hulett.

Dr Ravnö recalls that Jaap was also a very accomplished carpenter and clock maker and he won a National Award for building a 13th or 14th century clock using only wood and twine – even the gears were wooden and the twine was for a rotating pendulum. The clock sat in his lounge and it worked, but the "pendulum" needed to be "re-spun" several times a day. Dr Purchase recalls that visits to Jaap's home were always a joy, with warm hospitality from the whole family and inevitably some fun and games. Tsoelbak (Dutch shuffleboard) was a game that he particularly enjoyed. His home workshop was enviable and was the source of much of his furniture and games.

Although originally from Holland, Dr Bruijn retired to a chateau in the south of France with his wife Stannie, who passed away in August 2019. Our sincere condolences to his family.

Dr Jaap Bruijn (left) with his wife, Mrs Stannie Bruijn, and SMRI Board Chairman, Dr Cees van der Pol (centre), in December 1982

Dr Jaap Bruijn passed away on the 28 June 2020.

Compiled by Steve Davis, with acknowledgements to Drs Bernard Ravnö and Brian Purchase for providing some of the interesting information and anecdotes.  2 July 2020.

Professor Arndt served as SACI President from 1980-1981 and was a recipient of the Hendrik van Eck Medal of the Institute in 1996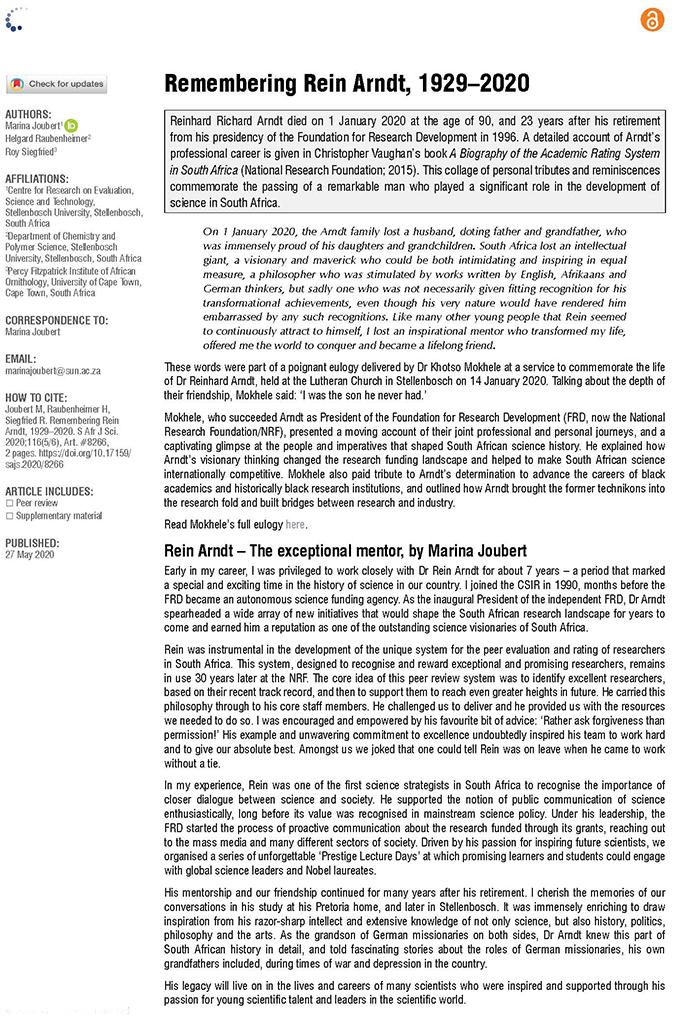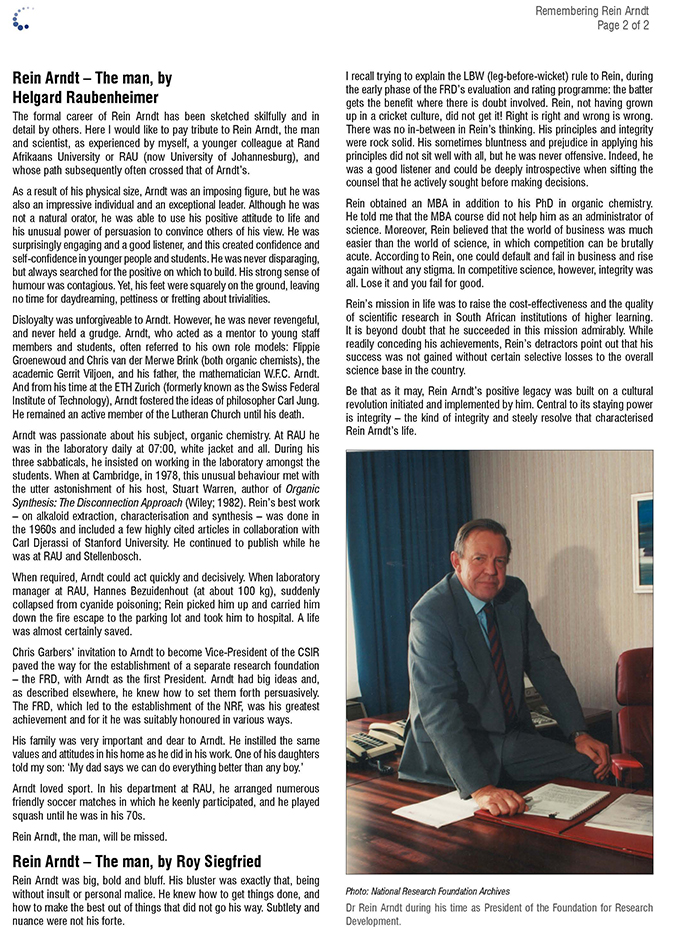 Emeritus Professor Michael Ewart Brown, FRSSAf

(12 July 1938–31 May 2019)
The South African and international chemistry community, together with Rhodes University and the Royal Society of South Africa, mourns the passing of RSSAf Fellow and Emeritus Professor Michael (Mike) Brown, in Grahamstown on 31 May 2019 after a long illness. Mike Brown was born in 1938 in Johannesburg and matriculated from Highlands North Boys' High School. His first degree, a BSc, was awarded by the University of the Witwatersrand. He was appointed to Rhodes University as a junior lecturer in 1962, completing his PhD degree in 1966. The newly graduated Dr Mike Brown completed a short stint as a Research Officer at the SA Chamber of Mines Research Laboratories in Johannesburg before returning to Rhodes University as a Lecturer in Chemistry in 1967. The Department of Chemistry at Rhodes University was to become his academic home for 36 years until his formal retirement in 2003. It was from here that he launched his long and distinguished academic career.

The South African and international chemistry community, together with Rhodes University and the Royal Society of South Africa, mourns the passing of RSSAf Fellow and Emeritus Professor Michael (Mike) Brown, in Grahamstown on 31 May 2019 after a long illness.

Mike Brown was born in 1938 in Johannesburg and matriculated from Highlands North Boys' High School. His first degree, a BSc, was awarded by the University of the Witwatersrand. He was appointed to Rhodes University as a junior lecturer in 1962, completing his PhD degree in 1966. The newly graduated Dr Mike Brown completed a short stint as a Research Officer at the SA Chamber of Mines Research Laboratories in Johannesburg before returning to Rhodes University as a Lecturer in Chemistry in 1967. The Department of Chemistry at Rhodes University was to become his academic home for 36 years until his formal retirement in 2003. It was from here that he launched his long and distinguished academic career.

Emeritus Professor Mike Brown was recognised as South Africa's foremost researcher, and a South African pioneer, in the field of thermal analysis. He was the recipient of the Mettler/North American Thermal Analysis Society International Award for Distinguished Contribution to Thermal Analysis (1996), the Rhodes University Vice-Chancellor's Distinguished Senior Research Award (1998) and the South African Chemical Institute's Gold Medal (2000). He was a Visiting Research Fellow at Queen's University in Belfast (1971), at the Cavendish Laboratory of the University of Cambridge (1980) and at ICI Explosives in Scotland (1989). Mike Brown was also the first Rhodes University academic to be awarded an A rating by the South African National Research Foundation. A tribute from one of his former colleagues at Rhodes University, published in a recent scholarly history of the university, recognised Emeritus Professor Mike Brown as one of a small group of Rhodes researchers who decades ago defined and guided the upward research trajectory of both the Department of Chemistry and the university.

In 1998 he was elected a Fellow of the Royal Society of South Africa, and in 2002 he became the first South African to be elected a Fellow of the North American Thermal Analysis Society (NATAS). Mike Brown shared a close friendship and productive 35-year collaboration with Dr Andrew Galwey, FRSSAf, of Queens University in Belfast. This collaboration, which began in 1971 when Mike Brown spent his first sabbatical at Queens University, ultimately yielded some 30 publications, many coauthored with postgraduate students, with a further eight publications in conference proceedings and two books. To mark this productive collaboration, a special issue of the international chemistry journal Thermochimica Acta was published in their honour in 2002 (Vol. 388, Issue 1–2).

Formal retirement in 2003 proved to be but a milestone and not the end of an academic road at his alma mater. Emeritus Professor Mike Brown, in addition to continuing his thermal analysis research collaborations, remained a highly valued mentor and a distinguished senior colleague at Rhodes University during his retirement years. In 2006 he submitted a compilation of research papers, from his life's work in thermal analysis, for the award of a DSc degree from Rhodes University, upon which the examiners "unanimously heaped praise"1.

Further post-retirement recognition from Rhodes University followed in the form of a Distinguished Old Rhodian Award, and for his scholarly and distinguished achievements after his formal retirement he was made a Distinguished Fellow of Rhodes University. The latter award is an honour rarely afforded retired academics at the university. Finally, the International Confederation of Thermal Analysis and Calorimetry (ICTAC) fittingly bestowed on him a lifetime honorary membership, in August 2018 in Brasov, Romania, shortly after his 80th birthday, in formal recognition of his contribution to the field of thermal analysis over half a century.

Emeritus Professor Mike Brown is survived by his wife Cindy, daughter Linda, grandson Brandon, son Richard, daughter-in-law Spela, and extended family. He is fondly remembered by his friends and colleagues at Rhodes University and around the world, together with generations of students who passed through his classes and research laboratory, for his wry sense of humour, his grace in difficult circumstances and his deep commitment to scholarly excellence, and, on a personal level, as an inspirational teacher and researcher and a wise, loyal and generous mentor and friend. He is sorely missed.

With acknowledgement to: Michael Davies-Coleman Transactions of the Royal Society of South Africa, Volume 74 Number 3, 2019, p. 306
Klaus Koch

The new decade unfortunately started off on a rather sad note for the South African Chemistry community with the news of the passing of Emeritus Professor Klaus Koch from Stellenbosch University on 2 January 2020.  Klaus had been battling cancer for just over a year and although many of us were aware of his situation, the news that he finally lost the battle, still came as a shock to most of us.  For some of us it has not really sunk in that we have lost a long standing colleague.

Born in 1953 in Windhoek, in the then South West Africa, Klaus completed his schooling at one of Namibia's top schools, viz. St. Paul's College in Windhoek, where he matriculated in 1972.  Following this he was reluctantly conscripted into the South African defence force to complete a year of compulsory military service.  Subsequent to this, he enrolled at the University of Cape Town for a B.Sc. degree majoring in Physics and Chemistry, which he obtained cum laude.  This was followed firstly by an Honours degree in chemistry and then a Ph.D. degree under the supervision of Dr Victor Fazakerly, who introduced him to advanced NMR spectroscopy.  Shortly after obtaining his Ph.D., Klaus was appointed as member of the academic staff of the then Department of Analytical Chemistry at the University of Cape Town.  Klaus rapidly proceeded through the academic ranks at UCT and reached the level of Associate Professor in 1989.  After a long career at UCT, he moved to Stellenbosch University, where took up the chair in Analytical Chemistry in 2002.  It was really at Stellenbosch University, that Klaus came into his own as an academic.  He established a thriving research group, working on platinum group metal chemistry with a strong emphasis on the use of modern NMR techniques with the aim of understanding the coordination behaviour of these metals.  It is during this time that he really emerged as a world-renowned researcher in PGM chemistry and multinuclear NMR spectroscopy.  A testament to this are the frequent invitations he received to present his work at some of the most prestigious international conferences in the field.  A consequence of this was he was able to establish a wide network of international collaborators across different parts of the world, many of whom became lifelong friends.  His reputation as a respected coordination chemist was recognized also by the wider community and resulted in him being invited to serve as a member of the highly influential advisory committee of the International Conference on Coordination Chemistry (ICCC).  He served on this committee for over two decades, making valuable contributions to ensure that this conference series is today regarded as the premier event for researchers in the field of coordination chemistry.  In 2006 he was entrusted by the ICCC committee to chair the 37th version of the biennial conference which was held in Cape Town, South Africa.  This was the first and thus far the only time that this conference was hosted on the African continent.  Under Klaus's guidance, it ended up being an overwhelming success.

As alluded to earlier, Klaus Koch was a very productive researcher.  At the time of his passing, he had more than 130 publications in peer-reviewed journals with these totaling over 3000 citations.  His research contributions have been recognized by several awards over his long career.  Included amongst these are the Heinrich Hertz Fellowship (Nordrhein-Westfalen, FRG), the Ernest Oppenheimer Memorial Trust Travel Fellowship and the Deutscher Akademischer Austauschdienst (DAAD) Fellowships to perform sabbatical work at the technical Universities of Munich and Leipzig, Germany.  He was elected as a Fellow of the Royal Society of South Africa in 2002 and a member of the South African Academy of Sciences in 2012.  In 2014 he became a Fellow of the South African Chemical Institute (SACI) and just before his passing, he was once again honoured by SACI when he became the recipient of the organization's Gold Medal for 2019.

Over his long career he supervised or co-supervised over 60 post-graduate students.  Many of these students occupy senior positions in various organizations across the world.  In addition to training post-graduate students, he was also well-known for being a committed and passionate teacher.  Hundreds of undergraduate students passed through his hands and I am convinced that each and every one of them must have been impacted by the enthusiasm and dedication of Klaus Koch.  I can attest to this, having myself been one the first crop of students taught by Klaus at UCT during the early 1980's.  He clearly made an impression on me and was one of the people who encouraged me to pursue a post-graduate degree in chemistry.  Since those early years he has always come across as someone who enjoyed interacting with young people and helping them follow their passion.  This has continued throughout his career and involved not only university students but also high school students.  In the latter part of his career he was jointly responsible for establishing one of the most successful outreach initiatives of the Chemistry Department at Stellenbosch University, known as SUNCOI.  The programme aims to assist learners as well as teachers from under-resourced schools to get some exposure to the practical work prescribed in the high school syllabus.  The programme was established in collaboration with one of the younger academic staff members, Dr. Rehana Malgas-Enus, for whom Klaus acted as an important mentoring figure during the initial part of her academic career.  This was during the period when he served as the first executive head of the Department of Chemistry and Polymer Science at SU.  During his tenure as HOD, he launched some important initiatives including a crucial review of the curriculum as pertaining to the undergraduate programme as well as a complete overhaul of the support staff structure of the department.
As a person, Klaus was a straight-shooter.  He always spoke his mind and never left you in any doubt what his thoughts were.  He could never be accused as being indecisive.  Once he decided on something he would go with his instincts and you really had to have good arguments to persuade him otherwise.  I suppose this was largely due him being so passionate about everything he did.

Although he had officially retired by the time of his untimely death, he was still active as a researcher and, in fact, at the time was still supervising post-graduate students.  His passing represents a great loss not only for Stellenbosch University but also to the wider chemistry community.  He will always be remembered with respect and admiration for his contributions to South African science in general and chemistry specifically.

Selwyn Mapolie, Department of Chemistry and Polymer Science, Stellenbosch University
Reinhard Arndt

The formal career of Rein Arndt, who died on 1 January 2020 age 91, at his home in Stellenbosch, has been skillfully and in detail, sketched in an eulogy by Khotso Mokhele and an obituary by Marina Joubert. 

In this obituary, the focus is on the man and scientist, Rein Arndt, as experienced by a younger colleague at RAU (now UJ) and whose path subsequently often crossed that of Arndt's.

As a result of his physical size, Rein Arndt was an imposing figure but he was also an impressive individual and an exceptional leader.  He was not a natural orator but despite this, was able to use his positive attitude to life and his unusual power of persuasion to convince others of his view.  He was surprisingly engaging and a good listener, which created confidence and self-confidence in younger people and students.  He was never disparaging but always searched for the positive to build on.  His strong sense of humor was contagious.  Yet, his feet were squarely on the ground leaving no time for daydreaming, pettiness or fretting about trivialities.

Disloyalty was unforgiveable in Rein's book.  However, he was never revengeful and neither held any grudges against persons involved.  Arndt, who acted as mentor for young staff members and students, often referred to his own role models:  Flippie Groenewoud, Chris van der Merwe Brink (both organic chemists), the academic Gerrit Viljoen, and his father, the mathematician W.F.C. Arndt.  Since his time at the ETH in Zurich, he fostered the ideas of philosopher Carl Jung.  Rein seldom spoke of his faith or religious beliefs but until his death remained an active member of the Lutheran Church.

Arndt was passionate about his subject, organic chemistry.  At RAU he was in the laboratory at 07:00, white jacket and all.  During his three sabbaticals he insisted on working in the laboratory amongst students [in 1978, in Cambridge, to the utter astonishment of his host Stuart Warren – The disconnection approach.].  Rein's best work – on alkaloid extraction, characterization and synthesis – was perhaps done in the 1960s and included a few highly cited articles in collaboration with Carl Djerassi of Stanford University.  He published a few articles while at RAU and Stellenbosch.  At RAU, he appointed perhaps the best organic chemist in the country despite the competition such a move entailed for him.

When required, Arndt could act quickly and decisively.  With laboratory manager, Hannes Bezuidenhout (~ 100 kg) suddenly collapsing from cyanide poisoning, Rein picked him up like a baby, carried him man-alone down the fire escape to the parking lot and charged off to Hillbrow hospital.  A life was almost certainly saved.

His time at Stellenbosch was not a happy one.  Chris Garbers' invitation to Arndt to become Vice-President of the CSIR, paved the way for the establishment of a separate research foundation, then known as the Foundation for Research Development (FRD) with Arndt as first President.  This was the forerunner of the current NRF.  Rein had large ideas, which he knew how to set forth persuasively as described elsewhere.  This was his biggest achievement for which he was suitably honoured in various ways.
His family was very important and dear to Arndt.  At home he instilled the same values and attitude as in his work. [One of his beloved daughters said to the son of the author: "My dad says we can do everything better than any boy".]

Rein loved sport.  At RAU he arranged numerous friendly soccer matches for the Department in which he keenly participated.  He played squash until in his 70s.

Rein Arndt, the man, will be missed.
Prof Helgard Raubenheimer
U Stellenbosch
Prof EB Mubofu

Prof EB Mubofu played a key role in FASC as a member; he initiated the process to get the Tanzanian Chemical Society to host FASC 2017 in Arusha.  He was well known to many of us.

Egid Beatus Mubofu (PhD) received his B.Sc. (Ed.) from the University of Dar es Salaam (UDSM) in 1992, after which he spent a year working for Unilever (TZ) as a factory management trainee at Kibwele Factory.  In 1994, he left Unilever and joined for MSc (Chem.) degree at the University of Dar es Salaam, Chemistry Department under the supervision of Prof. LL Mkayula where he successfully completed in 1996 and graduated in 1997.  In October 1997, he joined the University of York (UK) to pursue a PhD in chemistry where he completed his PhD in June 2001 and graduated in May 2002.  His research was done at the Centre of Excellence in Green Chemistry, where he researched on novel environmentally benign supported palladium catalysts under the supervision of Prof. James H. Clark and Dr. Duncan Macqurrie.  He then went on to become a postdoctoral research fellow for two years (2001-2003) at the University of Groningen, Stratingh Institute under the guidance of Emeritus Prof. Dr. Jan Engberts.  In his postdoctoral tenure in the physical organic chemistry group, he worked on the use of water as an alternative cleaner and green solvent for performing Lewis acid catalysed Diels-Alder reactions.  He returned to Tanzania in December 2003 and joined the Chemistry Department, University of Dar es Salaam as a lecturer.  In 2008 he was promoted to a Senior Lecturer position and since 2012 he was appointed to Head of the Chemistry Department, at the University of Dar es Salaam until 30th June 2016 when he was appointed Acting Director General of the Tanzania Bureau of Standards.  In November 2016, he was promoted to the position of Associate Professor of Chemistry at the University of Dar es Salaam.  On May 2nd 2017, he was appointed by HE the President of the United Republic of Tanzania to the position of Director General of Tanzania Bureau of Standards (TBS), the position he had been in the acting capacity since 30th June 2016.  In 2018 Professor Mubofu was appointed Vice Chancellor of University of Dodoma, a public university established in 2007, located in central Tanzania in the country's capital city, Dodoma.

Professor Mubofu's research interests were on green chemistry, nanomaterials and catalysis.  He served as an external examiner on several occasions at the University of Johannesburg and the University of Zululand.  He sadly passed away on 18th December 2018.  His funeral was held on 24th December 2018.
EDUCATION, Science and Technology Minister, Prof Joyce Ndalichako, yesterday led hundreds of mourners, including senior government officials, to pay final respects to Vice-Chancellor of the University of Dodoma (U DOM) Prof Egid Mubofu at Chimwaga Hall.

The University's hall was packed to capacity as tearful U DOM students, staff and residents of Dodoma thronged to pay tribute to the late Prof Mubofu who died in Pretoria, South Africa last Tuesday where he was taken for treatment. He was 55. "The nation has lost a diligent public servant who loved his country.

He used most of his time to address challenges facing the institution and staff," said Prof Ndalichako. The minister noted that within a short time since he was appointed Vice-Chancellor, Prof Mubofu had improved relations between U DOM and foreign universities and international institutions.

"Even when health complications started, he had just arrived from Japan where he held talks with Tokushukai Medical Group on the possibility of providing UDOM with mobile clinics to enable the institution's hospital offer health services to people in remote rural areas," she said.

UDOM Chancellor and retired President Benjamin Mkapa, described Prof Mubofu as a very humble person with audacity to make decisions.  He said he made the decision to appoint him to the post of UDOM Vice-Chancellor based on his outstanding achievements in the academic arena, a good image in the society and at work, saying when a special team presented to him ten names of scholars for the post, he chose Prof Mubofu.  He directed U DOM to print out more copies of Prof Mubofu's last speech, which was delivered on his behalf by Deputy Vice-Chancellor (Academic, Research and Consultation) Prof Peter Msoffe, in order to be distributed to staff.  Mr Mkapa explained that Prof Mubofu's last speech, which was delivered on his behalf by Prof Msoffe during this year's graduation after Prof Mubofu's health complications started, demonstrated his vision and expectations towards U DOM.

U DOM Academic Staff Association (U DOMASA) representative Cosmas Mahenge, said Prof Mubofu played an instrumental role in uniting the staff and management of U DOM.

Survived by a wife and three children, Prof Mubofu will be laid to rest at his home village Tanangozi, in Iringa Region, today.

By Ludovick Kazoka in Dodoma
Prof P Cheplogoi

Professor Peter Cheplogoi was an Associate Professor and Chairman of the Chemistry Department at Egerton University in Kenya.  He obtained his PhD degree at the University of Natal under the supervision of Professor Dulcie Mulholland.  He sadly passed away on 10th November 2018.  He is survived by his wife Roselyne and daughters Esther and Sarah.
Dear Friends and colleagues
I write from the University of KwaZulu-Natal, South Africa, where Peter has many friends.  We registered for our PhDs at the University of Natal in 1999 along with Tracy Pohl and joined Phil Coombes who was already registered for a PhD. At the same time, Chantal Koorbanally, Angela Langlois and Katherine McFarland registered for their MSc degrees and then went on to PhDs.  We formed an active Natural Products Research Group under the guidance of Professor Dulcie Mulholland, of which Peter was an active member.  He was one of the first Kenyans to join the University of Natal for a PhD in Chemistry.

Peter was very well liked.  He was a true gentleman and an extremely humble person.  We kept each other company while working in the laboratory and enjoyed taking our tea breaks together talking about all sorts of things.  Peter often celebrated Christmas and birthdays with us and was part of the family, fitting in very well.  We also travelled abroad together and discovered new places.  Peter was great company to travel with and very easy going.

We finished our PhDs in December of 2001 and graduated in April the following year, Peter Cheplogoi, Phil Coombes, Tracy Pohl and myself along with several Masters and Honours students.  I still have that priceless group graduation photo in my office.

When Peter finished his PhD he went back to Egerton University, but still kept the relationship going. He rose amongst the ranks to Associate Professor and examined many of my postgraduate student's theses.  No matter how busy he was, Peter would never turn down a request from me to examine one of my student's thesis.  He also forged relationships with others in the department.  In December 2010, he invited Prof Nyamori to give a lecture, which was very well attended, and included the then Dean, Prof. Moses Rotich.  He also introduced Prof Nyamori to Dr Joshua Kibet, and the two have formed a very productive collaboration.  Through this relationship a Kenyan student will now be enrolled at UKZN, South Africa.

Peter will always be remembered for always having a smile on his face, his kind heart, gentle nature and all round goodness.  He touched the lives of many in South Africa and will always be remembered.

Hamba Gashle Peter
Neil A. Koorbanally
University of KwaZulu-Natal (School of Chemistry and Physics)
Aaron Klug
Nobel-winning scientist who examined crystal structure, dies at 92

November 24 at 3:41 PM

Aaron Klug, a British scientist who won a Nobel Prize for developing techniques that used electronic probes and crystallographic techniques to discern the architecture and molecular arrangement of some of the molecules essential for life, including the chromosome, died Nov. 20. He was 92.

His death was reported in British newspapers and scientific publications. Details were not immediately available.

Dr. Klug held a PhD in physics but won the Nobel in 1982 for chemistry, for applying techniques from physics and mathematics to problems of molecular structure that could be regarded as within the domain of chemistry.

He was "a towering giant of 20th century molecular biology who made fundamental contributions to the development of methods to decipher and thus understand complex biological structures," Venki Ramakrishnan, president of Britain's Royal Society, said in a statement.

In great degree, Dr. Klug devised and demonstrated techniques of creating pictures of the arrangement of the atoms of crystalline substances in their three-dimensional, previously invisible reality. His work has had profound implications in the study of biology and medicine, including some forms of medical imaging.

Dr. Klug made use of one of the great dualities in science: the existence of electromagnetic radiation and of electrons as both waves and particles, with each regarded as equally real.

In the most fundamental sense, scientists probe crystals by bouncing beams of electrons off their atoms. They infer structure by charting the paths of the rebounds.

In addition, subjecting a crystal to electromagnetic radiation from many angles provides further information. Properly analyzed, the patterns made by the reflected radiation can produce a map of a molecule in its full three dimensions.
Dr. Klug's contribution was made possible, at least in part, by his mastery of many scientific techniques, and his ability to transfer methods from physics to the life sciences. Excursions beyond the boundaries of physics into other fields, biology in particular, were not so common, he once noted.

"Many physicists," he observed, "hate the idea of anything wet and sloppy."

Among the major contributions made by Dr. Klug and co-workers was to break down a substance called chromatin into fragments susceptible to diffracted X-rays and the beams of electron microscopy. It is in chromatin that DNA is packaged within living tissue.

Dr. Klug also worked on another molecule of fundamental importance, transfer RNA, and later in his career worked on proteins called zinc fingers, which are involved in switching genes off and on. His research has contributed to the understanding of Alzheimer's disease and other forms of neurodegenerative disease.

In 1982, the Nobel committee awarded the chemistry prize to Dr. Klug "for his development of crystallographic electron microscopy and his structural elucidation of biologically important nucleic acid-protein complexes."

Nucleic acids are fundamental building blocks of living matter; making known their structures has contributed to deeper insights into the mysteries of life.

Mapping the unseen in this manner can be regarded as the solution of a puzzle, and from childhood, Dr. Klug found himself drawn to puzzles.

He was born in Zelvas, Lithuania, on Aug. 11, 1926. He was 2 when his father, an artisan who also became involved in raising cattle, moved the family to Durban, South Africa, hoping to find a home more congenial to Jews. He was educated at Durban High School.

One of Dr. Klug's earliest fascinations was with Egyptology. Later, the book "Microbe Hunters" by Paul de Kruif, whetted an interest in science. In 1945, he graduated from the University of Witwatersrand in Johannesburg. Drawn by physics, he obtained a master's degree from the University of Cape Town, followed by a PhD in solid state physics at Britain's University of Cambridge in 1952.

In England, he worked at top-ranked institutions with some of the celebrated scientists of his era, including Rosalind Franklin, whose specialty was crystallography. Her work, which led to the discovery of the structure of DNA, has often been said to have been denied full recognition for her contributions until well afterward, possibly because of her gender.

With Franklin, Dr. Klug worked on the structure of tobacco mosaic virus, a springboard to learning more about molecular structure. Through Franklin, he said, he learned something particularly important.

He said he had a tendency to squander energy in service to his wide-ranging curiosity. From Franklin, he learned how important it was at times "to be single-minded."

Through Franklin, Dr. Klug became a friend of Francis Crick, who shared the Nobel Prize with James Watson and Maurice Wilkins in 1962 for discovering the structure of DNA.

Crick helped Dr. Klug's research group became part of a molecular biology lab at Cambridge. In 1968, Dr. Klug and his collaborators announced the technique of Fourier electron microscopy, showing how seemingly limited data could permit three-dimensional molecular reconstructions. The discovery revealed the structures of hundreds of molecules and produced nothing less than a revolution in the field of structural molecular biology.

In 1986, Dr. Klug became director of the Cambridge molecular biology laboratory, serving until 1996. He was also president from 1995 to 2000 of Britain's venerable Royal Society, the world's oldest scientific organization, whose members have included Isaac Newton, Charles Darwin and Albert Einstein.

In 1948, Dr. Klug married dancer and choreographer Liebe Bobrow; they had two sons and several grandchildren. Complete information about survivors was not available.

"Almost everything I've worked on," Dr. Klug once said, "after I started, other people moved in and did all sorts of useful work, but by then I'd moved on to something else."

The reason, he said, was that "people jump in when they see something good and spoil the fun, really."

Read more Washington Post obituaries
Paul O'Brien
Materials chemist who perfected nanoscientific techniques and enabled important advances in electronics

Paul O'Brien used chemical synthesis to create tiny semiconductor particles called quantum dots. Photograph: Royal Society.

In 1995 the leading British materials chemist Paul O'Brien, who has died aged 64 after suffering from brain cancer, began to use chemical synthesis to make quantum dots, which are tiny semiconductor particles, only nanometres across, that can be made to emit light of varying colours according to their size. Up to that point quantum dots had been difficult to produce, requiring the use of hazardous metal alkyl precursors at high temperatures. O'Brien's new method not only allowed them to be mass-produced; it also required much less energy and generated fewer harmful byproducts.

As a consequence, quantum dots are now ubiquitous in modern electronics and are used in any number of applications, from lighting and visual display units to solar energy capture and bio-markers, which help doctors to detect disease in the human body.

O'Brien's work on this branch of nanoscience, dealing with materials that are typically thousands of times smaller than the width of a human hair, was revealed to the world in a 1996 paper in the journal Advanced Materials, and was a key discovery in its field. Thereafter he concentrated on the real-world impact of his work, producing a number of patents based on the process and, in 2001, establishing a company, Nanoco Technologies, which supplies quantum dots to global businesses such as Dow, Wah Hong Co and Merck.

Born in Collyhurst, Oldham, Paul was the son of Thomas, an engineer at the electrical engineering firm Ferranti, and Maureen (nee Graham), a clerk at a raincoat factory. From Cardinal Langley grammar school in Middleton he went to the University of Liverpool, where he gained a degree in chemistry, and to University College Cardiff for his PhD studies on the binding of metals to amino acids.

In 1978 he became a lecturer at Chelsea College of Science and Technology in London, and six years later moved to Queen Mary College, London (now Queen Mary University of London), where he spent 11 years, latterly as a professor, developing the materials chemistry activity for which he is celebrated. His insights at the time, he always stressed, were highly influenced by discussions with a colleague at Queen Mary, Donald Bradley, who was using a similar approach to making other inorganic materials.

In 1995 he became professor of materials science at Imperial College London, and in 1999 moved to the University of Manchester to a joint professorship between Victoria University of Manchester school of chemistry and the Materials Science Centre jointly run by Victoria University of Manchester and Umist. During this time he also acted as associate dean for research and, from 2002, head of the department of chemistry, playing a key role in bringing together departments during the merger of Victoria University of Manchester with Umist.

He was head of the school of chemistry that resulted from the merger, and then head of the school of materials (2011-15). His common sense and immense patience proved invaluable in breaking down barriers between groups that had, until the merger, been in competing institutions.

O'Brien retired in July 2018 after his diagnosis, and approached his illness with his usual scientific curiosity and optimism, drafting and editing papers from his hospital bed, which he turned into an impromptu office. He published more than 700 scientific papers across his career and helped more than 100 young researchers obtain PhDs under his watchful eye, many of them scientists from developing countries.

He was passionate about science in Africa, and his advocacy and leadership in that sphere led to the procurement of significant amounts of funding from the Royal Society and the UK government for new materials for solar energy capture in three African countries. Elected a fellow of the Royal Society in 2013 and a fellow of the Royal Academy of Engineering in 2016, he was appointed CBE in 2016.

A wonderful raconteur who was generous with his time and energy – and who amused everyone with his unique emailing style, which varied from minimalist to poetic – he somehow found time outside his scientific work for many other interests, including reading, hill-walking and camping, theatre and football.

He is survived by his wife, Kym (nee Evans), whom he met while studying in Cardiff and married in 1979.

• Paul O'Brien, scientist, born 22 January 1954; died 16 October 2018

Article reprinted from The Guardian
David Lewis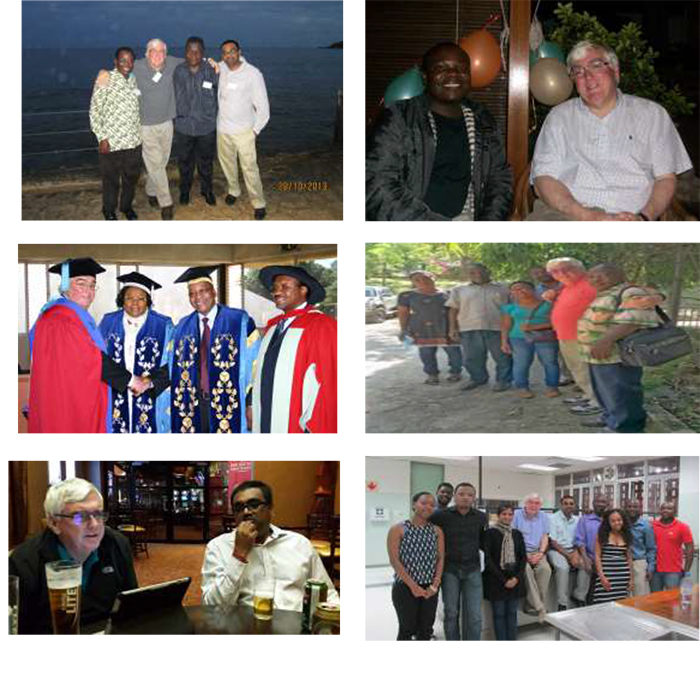 Professor Paul O'Brien had a long association with chemists in Africa, particularly with the University of Zululand.  He will be sadly missed.  Here we show some photos of Prof O'Brien with colleagues at the SACI 2013 Convention in East London, at the University of Zululand and, also, at the University of Dar es Salaam in Tanzania.  He was awarded an Honorary Doctorate from the University of Zululand.

Below is a link to an audio clip for his thanksgiving service held on 6 November 2018 in Manchester:
http://wilmslowmethodists.org.uk/prof-paul-obrien/
Link to another obituary highlighting his work in Africa
https://www.youtube.com/watch?v=zG3ac-JnlLw&feature=player_embedded
Professor Andre Goosen

Professor André Goosen was born in Queenstown and matriculated at Queen's College in 1949. His ambition was to become a sailor, but his mother disabused him of this notion by arranging a passage on his uncle's fishing trawler for an extended run out of East London. By the time they returned to port, the young man had determined that lengthy spells at sea in exclusively male company was not as attractive a prospect as he had imagined.

And so it was to university, enrolling at the University of Natal (Pietermaritzburg), to complete a BSc degree in 1954, majoring in Chemistry and Physics, followed by a BSc(Hons) in Chemistry in 1955. He was awarded an MSc in 1956 followed by a PhD in 1960, with his research on the alkaloids of the Amaryllidaceae being carried out under the supervision of the doyen of natural product chemistry in South Africa, Professor Frank L. Warren.

In 1956 Goosen was appointed at the University of Natal as a Junior Lecturer, followed by Temporary Lecturer, and was promoted in 1960 to Lecturer in Organic Chemistry. While at Natal he met and later married Joan Sansbury, also a student of chemistry.

The couple spent 1963 in London with Goosen as Visiting Lecturer at the Imperial College of Science and Technology, under the tutelage of Professor Derek H. R. Barton, who was to be awarded the Nobel Prize for Chemistry in 1969 and knighted in 1972. For his research in which he showed that the photolysis of N-iodoamides provided a general route to y-lactones, Goosen was awarded the Diploma of Imperial College. In his case a special concession was required to qualify, as the regulations then stipulated a two-year minimum residential period. He resumed his post at the University of Natal at the end of the same year and was promoted to Senior Lecturer in Organic Chemistry.

With Warren's encouragement, Goosen applied for a post at the fledgling University of Port Elizabeth in 1964 and assumed the new Chair of Organic Chemistry at UPE in January 1965, at the age of only 32. He was destined to spend the rest of his life in Port Elizabeth, twenty-eight of these at the university.

He and the late Professor Ferdi de Wet who was appointed at the same time, along with Professor Jan du Preez two years later, set about building up a Chemistry Department from scratch on the old Bird Street campus. The task of developing curricula, starting the academic programme, building laboratories, and establishing research was a daunting one that they tackled with enthusiasm and energy. In 1979 the Chemistry Department moved into spacious well appointed facilities that they were instrumental in designing, on the new Summerstand campus. Under their guidance, the department flourished.

Goosen proved to be a highly capable administrator and was Head of Chemistry at various intervals for seventeen years in total. He furthermore served three five-year terms as Dean of the Faculty of Science in the period 1969-1990, at times concurrently with the Headship, while also carrying a full teaching load and as a FRD B-category scientist, leading a research group. He sat on numerous UPE committees and was Senate representative on the UPE Council (1990-1993).

Moreover, he was involved in the South African Chemical Institute in various capacities, locally and nationally, serving as National President in 1979-1980, and as a member of the editorial board of the South African Journal of Chemistry. He was a member of the Joint Matriculation Board for twenty-three years including stints as Chairman, and sixteen years as Chemistry Moderator for Matriculation Physical Science. He was appointed by the Committee of University Principals to the Matriculation Board in 1992-1993. He also served on advisory committees of the CSIR and South African Council for Natural Scientists, and was a member of the international advisory board of the Royal Society of Chemistry journal, Perkin Transactions 1.

Notable awards received by Goosen were the AECI Gold Medal of the South African Chemical Institute in 1975, followed by the Gold Medal in 1992 in recognition of his contribution to chemical education and research on free radical reactions.

He was a member of the Royal Society of Chemistry (London), a Fellow of the Royal Society of South Africa, and a Honorary Life Member of the South African Chemical Institute. He was registered with the South African Council for Natural Scientists.

Aside from his stint at Imperial College, he was also a Visiting Professor at the University of Utah (USA) in 1972 at the invitation of Professor Cheves Walling, a notable figure in free radical chemistry. Later came spells as Visiting Lecturer at the University of Aberdeen (UK) in 1978, and Visiting Scientist at the Weizmann Institute (Israel) in 1985.

Goosen was an inspiring lecturer and supervisor whose energy and positivity seemed boundless. He revelled in his work and would claim, "I have never worked a day in my life!" Such was his enthusiasm for chemistry that this was quite believable. He was a productive researcher, blessed with excellent practical skills, who authored 80 research papers and supervised 34 MSc and 15 PhD students.

In his time, Goosen injected new perspectives into the South African chemistry scene. From Imperial College he brought the modern mechanistic approach to teaching organic chemistry. When he assumed the post at UPE, organic chemistry research in South Africa was largely based on natural products, the field in which he himself was schooled. However, he broke new ground, shifting his focus to physical organic chemistry, working on the chemistry of free radicals and other reactive intermediates. This move proved to be a percipient one as his career would coincide with what was arguably a golden era for physical organic chemistry. His group would make significant contributions to the chemistry of organic hypoiodites, peroxides, N-iodoamides and related species. Aside from the fundamental research, he also engaged with industry on applied problems, most notably with AECI, UCOR, Sasol and Illovo Sugar.

After he retired from university life in 1993, Goosen entered local politics, representing the Democratic Alliance as a Councillor and in various other capacities in the Port Elizabeth Transitional Local Council and subsequently in the Nelson Mandela Bay Metropole Council (2000-2011).

Throughout his life he was active in various community, church and sailing circles; in his later years he became a keen bowler. He had the enviable knack of balancing work and play, performance with pleasure. Although it was never to be his occupation, he indulged his passion for sailing in his leisure time, at first with a dinghy on the Swartkops River, where he became Commodore of the Redhouse Yacht Club. Later there was Eve, a thirty-one foot keelboat that he sailed from Cape Town to Port Elizabeth and moored in the harbour at the Algoa Bay Yacht Club. Weekend sailing in the bay gave him endless pleasure, sometimes with postgraduate students roped in as crew. At home he and Joan were excellent hosts and he would be at his most affable with the company of friends and a glass of cabernet sauvignon close at hand.

Professor André Goosen was a widely respected and loved man who touched many lives in various arenas. He will be remembered for his high ethical and professional standards, his deep concern for the people he worked with, and above all his love of learning, which inspired those around him. Predeceased by his wife Joan and daughter Dalene, he is survived by their sons Raoul and Pierre.

Emeritus Professor Cedric W. McCleland, Department of Chemistry, Nelson Mandela University
Prof. Ben Zeelie

Prof Ben Zeelie dedicated his life to developing his team of staff and students. Encouraging them to take responsibility for each other. He believed in making Science practical and relevant to the public.

On a more formal note, he obtained his PhD in Chemistry at the University of Port Elizabeth and paid it forward by acting as promoter/co-promoter for 63 masters and doctorate students, this excludes those he examined and consulted for. Refereed Publications he wrote totalled 27 that we know of and 19 Patents excluding those on Coal fine Purification, Microalgae Cultivation, Process equipment and Coalgae which were either granted, filed or registered between 2010 and 2015. He contributed to over 50 conference proceedings during his career.

Some of the coursed he developed included:
Research Methodology for Chemists" - for B Tech/Honours and new master's degree students.

"Laboratory Process Development" – course for Master's degree students.

"Good Research Practice" – an informal course for Master's and Doctoral students in good research practices.

"M Tech: Chemistry (Product and Process Development) - a structured Master's degree as a "Technical" alternative to the traditional MBA.

"BSc Honours in formulation Science" – a multi-disciplinary program aimed at new product development.

"Diploma in Chemical Process Technology" – a program for the training of process technicians and process operators.
Government services played a pivotal role in his career, he was a leader in establishing new initiatives in South Africa, a:
Member of task team for the preparation of the proposal for the establishment of the Automotive Components Technology Station (Tshumisano Technology Stations Programme).

Member of the NACI Task Team – Chemical Industry.

Leader of the task team for the proposal to establish the South African Chemical Technology Incubator in Port Elizabeth (Former GODISA Incubator Programmes).

Chairperson of the Board of Directors – South Africa Chemical Technology Incubator.

Author of the proposal to establish the Downstream Chemicals Technology Station (Tshumisano Technology Stations Programme).

Member of the South African Research Infrastructure Roadmap Team (2013).
Technology Transfer and Entrepreneurial contributions Prof Zeelie was instrumental in or a founder of, can be listed as follows:
Established "ChemQuest", the commercial analytical service arm of the department of chemistry, 1992. (EX-PET Unit – Now operating as InnoVenton Analytical).

"EnviroQuest", Spin-off company formed from ChemQuest activities, 1998 (CC).

"Techno-Lab Services", Spin-off company formed from ChemQuest activities, 2001. (CC).

Project leader for the establishment of "CHEMIN", The South African Chemical Technology Incubator, 2002. (S21 Company).

Established the Chemical Technology Centre (CTC) at PET for the scale-up and commercialisation of chemical production processes, 2004 (now incorporated into the Institute of Chemical Technology).

Team member in the establishment of "PET Innovations", the commercial arm for the exploitation of PE Technikon held IP, 2003. (Pty Company).

Led task team for the establishment of the "Office of Innovation Support and Technology Transfer" at the NMMU (2006)

Insect repellent formulation: Product development, manufacturing and commercialisation.

Rose preservation process, AfricaEverose, now Floralush Pty LTD (2007)

Established InnoVenton: NMMU Institute for Chemical Technology (2005)
University Services:
Member of the NMMU Central Research Committee.

Member of the Faculty of Science Research Committee.

Member of the NMMU Intellectual Property Committee.

Leader of Task Team to Develop Innovation Support and Technology Transfer Structures for the NMMU.

Member of Senate.

Member of the NMMU Innovations Committee.

Member of the NMMU Engagement Committee.

Member of the NMMU Task Team to revise the NMMU's Performance Management System.

Proposer for the establishment of a SARChI Chair in Microfluidic Bio/Chemical Processing (2012).

Examiner/moderator for other higher education institutions:

University of the Free State (MSc).

University of Potchefstroom (MSc).

University of Port Elizabeth (BSc Hons (Statistics)).

Rhodes University (Reviewer for industrial chemistry projects).

University of Pretoria (MSc).

University of Cape Town (M Eng).

Rand Afrikaans University (MSc).

Member of task team for the establishment of the Centre of Excellence in Catalysis at UCT.

External reviewer for UCT – Entities Program.

External Advisor for the Merger of Chemistry Departments – Walter Sisulu University.
His services to the South African Chemical and Allied industries are too numerous to mention, and range from proposals, technical solutions for problems, characterizations, various specialist studies to tailor made courses for particular applications and skills development.
Also this quote from Nelson Mandela is very apt in respect of Ben:
"What counts in life is not the mere fact that we have lived. It is what difference we have made to the lives of others that will determine the significance of the life we lead." Ben certainly made a big difference to a number of lives.
Dr Melissa Gouws
Technology Station Manager
InnoVenton
Mr. Gerhard von Gruenewaldt

The National Research Foundation regrets to announce the passing of Gerhard von Gruenewaldt, a former vice-president of the organisation and one of its driving forces in its progress since its establishment.

He joined the NRF's forerunner, the Foundation for Research Development (FRD) in 1992 as vice-president for programmes and planning where he was instrumental in realigning research support for higher education with the changing realities and needs of the new South Africa. On the establishment of the NRF, he was appointed its vice-president and managing director for its Research Support Division where he helped integrate the activities of the former FRD and the Centre for Science Development (CSD) and the establishment of the new research support framework for the natural sciences, engineering, social sciences and humanities. He also oversaw the Technology and Human Resource for Industry Programme (THRIP) on behalf of the Department of Trade and Industry and the Innovation Fund on behalf of the Department of Science and Technology.

Gerhard also worked as a consultant and part time research advisor to the University of the Witwatersrand. In recent years he was involved extensively with various projects relating to the evaluation of research programmes and research infrastructure. Apart from his involvement with TechnoScene in the study of "The Required Physical Infrastructure to Attain the Vision of the National System of Innovation"; an "Interim Review of the South African Research Chairs Initiative (SARChI)"; and a review of the National Equipment and the National Nanotechnology Equipment programmes, he conducted investigations entitled "A Proposed Recapitalisation Strategy of the National Research Facilities" and "An Optimal Model for the Establishment of a South African Polar Research Entity", both for the NRF. He served as chairperson of the five yearly review of the Council for Geoscience in 2009 and, since retiring from the NRF, remained involved with the evaluation and rating of South African scientists.
Gerhard also worked as a consultant and part time research advisor to the University of the Witwatersrand. In recent years he was involved extensively with various projects relating to the evaluation of research programmes and research infrastructure. Apart from his involvement with TechnoScene in the study of "The Required Physical Infrastructure to Attain the Vision of the National System of Innovation"; an "Interim Review of the South African Research Chairs Initiative (SARChI)"; and a review of the National Equipment and the National Nanotechnology Equipment programmes, he conducted investigations entitled "A Proposed Recapitalisation Strategy of the National Research Facilities" and "An Optimal Model for the Establishment of a South African Polar Research Entity", both for the NRF. He served as chairperson of the five yearly review of the Council for Geoscience in 2009 and, since retiring from the NRF, remained involved with the evaluation and rating of South African scientists.

Gerhard was born in Germany in 1942 and studied Geology at the University of Pretoria where he obtained his BSc, Honours, Master's and Doctorate and where he worked as Lecturer and Head of the university's Geology Department for 13 years. He was awarded a Research Fellowship from the Alexander von Humboldt Foundation at the University of Munich in 1974. He was appointed an Honorary Professorship in the Department of Earth Sciences at the University of Pretoria in 2002.

As a scientist, Gerhard made significant contributions to research on the genesis of rocks in the unique Bushveld Complex and associated ore deposits. His work, particularly in the field of platinum mineralisation, led to valuable new insights regarding the nature of occurrence and genesis of these important ores which, besides earning him international recognition as a scientist, including an A-rating from the FRD in 1989, have had considerable importance for the South African mining industry.

Among his many achievements, Gerhard was awarded the Corstorphine Medal and student's prize from the Geological Society of South Africa in 1966 and its Draper Memorial Medal in 1990 as well as the Award for Excellent Achievements from the University of Pretoria. He authored and co-authored more than 60 research papers and supervised 23 masters and seven doctoral students.

The NRF gratefully acknowledges Gerhard's contribution to the advancement of science in South Africa.
He leaves behind a wife and two children.